The Way Out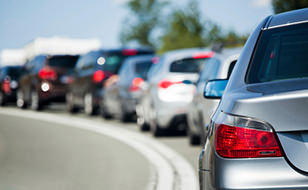 The Way Out –
Yesterday evening Beth stopped by my office to see me (and give me some sugar!). After a while, she hopped back into her car and I got in my truck. She began to drive out the main entrance. I tried to warn her with hand signals not to go that way but she didn't notice me. I, on the other hand, went another way to avoid all the traffic that bottles up at the main entrance, this time, every work day. After almost two years I knew to avoid it and how. As I made two quick turns I passed Beth who was still sitting in line and waved. I called her and she asked; "How did you get in front of me?" "Took a different, better way to get out as quick as possible," I said. She laughed and I told her I would see her following a class I was teaching in the evening.
As I drove past her I thought of one of my favorite wisdom proverbs;
A man was walking down the street and fell into a big hole. Try as he might, he couldn't get out. He heard someone passing above, it was a professor. "Hey, Sir! Can you get me out of here? I'm stuck." he yelled! The professor threw down a book on philosophy and existentialism and kept on walking. Our man heard another person approaching, it was a priest. "Hey, Padre! Can you help me out? I'm stuck!" The priest wrote out a prayer and dropped it into the hole. The next guy was a good friend and the man yelled out; "Hey Joe! Please, I'm desperate. Please help me out of this hole." The friend looked down and then proceeded to jump down in the hole. The man was flabbergasted! "What'd you do that for? Now we're both stuck." Joe smiled and said; "Relax. I've been in this hole before and I know the way out."
The road of life is filled with u-turns, yields, long boring stretches, deep holes and exciting hairpin turns. Traveling with those who know the way is always better than traveling alone.
blessings,
BrianLoging (Twitter)
thewannabesaint.com
Posted on August 18, 2016, in Life and tagged #alone, #help, #helpme, #helpmeout, #holes, #journey, #lost, #prayers, #roadoflife, #together, #travelling, #wisdom, Books. Bookmark the permalink. Leave a comment.