Not a Suggestion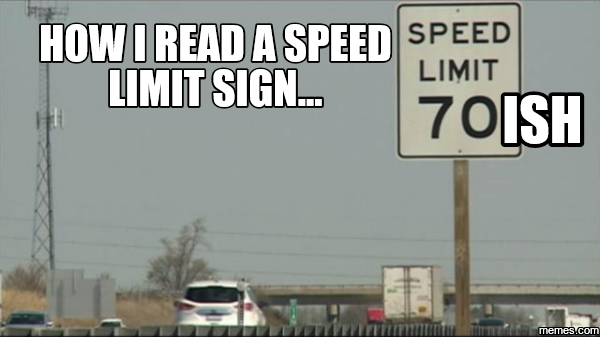 Not a Suggestion –
I have to admit this is the attitude I have toward speed limit signs. I see them as more suggestions than actual law. Now, mind you that mindset has never gotten me out of speeding ticket but it's still one I hang on to.  I even heard a pastor one time say he "only" goes 10% over the speed limit. He figures that's God's speed limit. I don't think that would work with an officer of the court either.
Suggestions are defined as; "an idea or plan put forward for consideration. Synonyms: proposal, proposition, motion, submission, action point, recommendation." This isn't what a speed limit is designed to be. The word "limit" gives it away. The number on the sign is the limit, the maximum you should go not the starting point. I know in my mind that's what the number is for and I trust that someone put a lot of thought into the number. It's there for safety. All traffic laws are there for the safety of all drivers. But, still, I often find myself going above the limit on many occasions.
However, no matter the reasoning I am breaking the law and when I am stopped by a law enforcement officer I have no real excuse and hope I will accept the fine with humility and understanding.
It is the same with wisdom. The rules of the Master are not suggestions they're laws and when I choose to break them I must accept the consequences with humility and greater understanding.
blessings,
@BrianLoging (Twitter)
thewannabesaint.com