To Think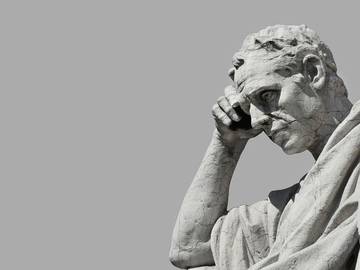 To Think –
I am currently teaching a men's class on Wednesday evenings in a city that's an hour away from home. This means on Wednesday afternoon and evening I have a bit of time on my hands. I spent most of it yesterday talking with fathers on the phone. A couple of hours to myself gives me time to think about my day, week, schedule and the materials I will be teaching and how the class went on the way back.
Thinking is a balancing act for someone like me with a Severe Anxiety Disorder. If I'm not careful thinking can turn to rumination and going over and over a situation, interaction, occasion in my mind. I described it one time to my therapist; "My over-thinking is like bubblegum. You chew on it and for a while, you get something tasty. Soon, however, all the flavor is gone and you're chewing a piece of wet rubber." I try to be aware of my thoughts and if I'm fixating on a particular subject. When I catch myself I turn on the radio, a podcast or music.
Wisdom tells us; "We cannot stop thoughts from entering the door of our minds
but we do not have to serve them tea."
blessings,
@BrianLoging (Twitter)
thewannabesaint.com
Posted on July 19, 2018, in Mindfulness and tagged #aware, #balancingact, #bitoftime, #blessings, #cannotstop, #catchmyself, #currently, #entering, #fixating, #goingover, #interaction, #notcareful, #occasion, #ourminds, #over-thinking, #Rumination, #SevereAnxietyDisorder, #situation, #teaching, #therapist, #thewannabesaint.com, #think, #thinking, #timetothink, #tomyself, #wisdom, @BrianLoging, Mind, Thoughts. Bookmark the permalink. Leave a comment.