Thorny Situation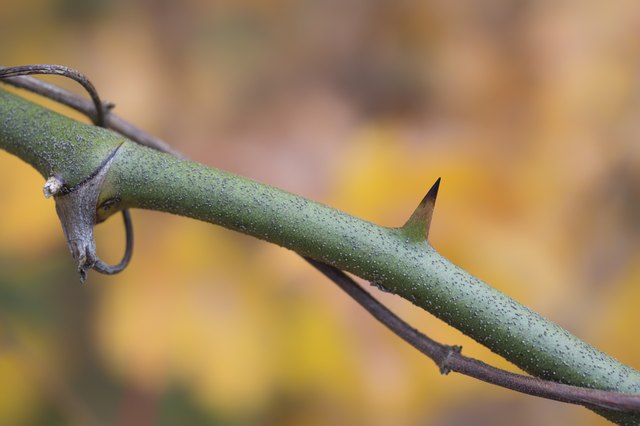 Thorny Situation –
Today working in a friend's yard I came across several thick, thorny, vines. They were growing up from the ground and had worked their ways into several trees wrapping themselves around numerous limbs. I found the source where they started and sawed it as close to the ground as possible. Then, with a pair of thick gloves, I grabbed and pulled. I was able to get almost ten feet of the vine dragged down before the vines drew a bunch of limbs together and wouldn't go any further. I asked another friend who was helping to grab a saw and cut the vines as high as he could. He did and the remaining vines popped back up into the trees. Eventually, since they have no connection to the ground, they will rot and die. At the source, a vigilant eye will be needed to make sure it doesn't start growing again.
Wisdom teaches us there are thorny issues in our lives. They intertwine themselves into many parts of our lives and begin to choke us. They're sharp and we're sensitive to the impact they have on us and others. To rid ourselves of them we have to find the source and cut it out of our lives. We also need to be untangled from the hold they have on us. Thorny issues are not easy to get rid of. It will take perseverance and patience until they are fully gone and a vigilant eye to make sure they don't return.
blessings,
BrianLoging (Twitter)
For more posts, reflection and other writings, please visit: http://www.thewannabesaint.com
Posted on September 21, 2018, in Mindfulness and tagged #blessings, #choke, #cutthemout, #draggeddown, #findthesource, #Growingup, #helping, #hold, #impact, #intertwine, #needed, #noteasytogetridof, #partsofourlives, #patience, #Perseverance, #remainingvine, #rid, #sensitive, #sharp, #source, #startgrowing, #teaches, #thick, #thorny, #thornyissues, #ThornySituation, #Untangle, #vigilanteye, #vines, #wisdom, #workedtheirway, #wrapping, @BrianLoging. Bookmark the permalink. Leave a comment.