Blog Archives
Where You're Going –
This morning, at a community group for dads, I talked with the men about the importance of "Putting First Things First." It's a concept which deals with knowing what's truly the most important things in our lives and using those as a framework for how we live. When you know what's important then every decision is made according to your paradigm, your life's mission statement. If a decision is made that does not fit the schematics of who you are and who you want to become you make it right. Otherwise, you are traveling in the opposite direction of where you need to go.
Everything we do, walking the road of life, involves passion, energy, and time. We have limited supplies of all three. We have to choose how we are going to use them. Our life is a list of the things we do and deem important. The more items on our list the less passion, energy, and time we have to give each item. The fewer items on the list the more we have to give.
This is why knowing what's important, where you are going, is a must. It allows us to make sure some items remain on our list, what important, and eliminate the unimportant. Direction is easy once we decide where we want to go.
blessings,
@BrianLoging (Twitter)
thewannabesaint.com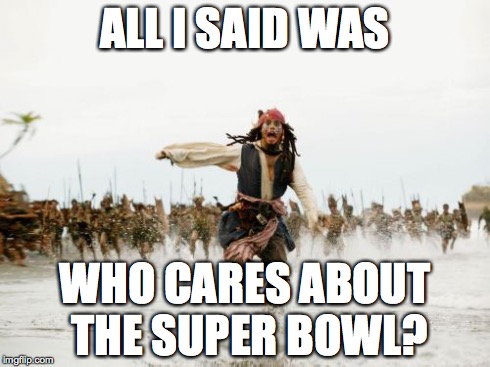 Who Cares?
This morning, in worship service, the pastor asked; "Who's rooting for the Philadelphia Eagles tonight? Who's going for the New England Patriots? Who doesn't care? Who didn't know the Superbowl was being played today?" There were hands and voices raised for each question.
Around 120 million people will watch the Superbowl tonight. That's over a third of the population of this country which is roughly 323 million. Amazing to me that we can watch a football game together but can't seem to unite over much else. It's also a surprise the 2/3 of America doesn't care about the game at all!
I will be rooting for the Philadelphia Eagles. I don't have anything against the Patriots they've just won it so many times I think it would be nice to give it to someone else for a change. The coverage for the big game started early this morning. The network broadcasting the Superbowl had a great interview with a Patriot's receiver, his wife, and children. It was a reminder that individual people, with unique stories, make up the teams.
It's a shame we don't remember that when we are attacking others for their political, cultural and religious opinions and beliefs. We cast a large net over those who don't think like us and label them; "bad" or "good" according to our own fallible judgments.
Maybe, if we could see the individual, listen to their story, discover we're all trying to make it the best we know how, we would realize when we fight all of us lose.
blessings,
@BrianLoging (Twitter)
thewannabesaint.com
Hate –
I listened to a conversation this week where the person told another, to their face, that they hated them. "I hated you when you left," they said. "It took a long time to not hate you anymore." It was an honest and startling admission. Most times people are adept at not showing the person they hate their true feelings.
It left me with a question; "Have I ever, in my life, hated someone?" I define hate; as the inability to see the good in someone. As I reflected on the question a person came to mind. If I've ever hated someone, according to my definition, this man fit the criteria. I had the hardest time seeing the good, the light, the benefit of his existence, the unique expression of God in him. It was, at times, impossible to not be suspicious of his motives, think of the worst outcome of his decisions, belittle his beliefs and talents. Then, one day, ranting in my head about something he had done the question came from out of the blue; "Can you see any good in this man?" My mind stopped dead in its tracks. The answer was "no, I couldn't." It was then I realized the problem wasn't him it was me.
I'd love to post about how this moment fixed everything but it didn't. However, it did give me a new way of looking at this person and my role in the frustration, anxiety, and chaos within me. It took me a long time to forgive the hurt and betrayal he had caused but I began focusing on what was going on inside of me instead of what someone was doing on the outside. This made all the difference.
"You will never see God until you can see Him in every next face you see." #SaintMotherTeresa
blessings,
@BrianLoging (Twitter)
thewannabesaint.com