Blog Archives
Surfing or Drowning –
I just finished reading an article from seven years ago today about a father and son who were killed by a drunk driver. The mom shared it on social media and the heartache is still present and the wound raw. I can't imagine the pain. I knew the father a little. He was in our church's youth group. He was a few years older than me but always seemed cool. He was an athlete. He ran, biked, swam, and surfed. The morning dad and son were killed they were training for a triathlon. The father was named after his father and the son carried on the tradition. He was the III.
How do you have hope in the midst of such loss? How do you not drown in sorrow? How do you not get lost in such darkness? I don't think there's an easy answer. Quips and quotes don't begin to address the brokenness and reveal our lack of intimacy with death. We do everything we can to avoid it. Most of us try to prolong our lives by any means necessary. When death finally does come we are quick to make the arrangements, organize a memorial or funeral service and push past it as fast as possible. But even then, death finds a way to corner us, trap us, confront us. After the hustle and bustle of meals, flowers, sympathy cards, and services we find ourselves alone when death, misery, mourning, comes calling.
Experts tell us that when we are caught in a riptide to not fight the current or it will surely drown its victim. Let it grab you and then slowly, moving parallel to the shore, slip from its grip. I think this is how we deal with the loss of those we love. There's no escaping and fighting and refusing to acknowledge its power end in certain defeat. To allow it take hold, scare us, shake our faith, sweep our "normal" life away, but not giving up is the key. Slowly our strength returns, we regain our bearings, we slip from its grip, rise above the waters and live.
blessings,
@BrianLoging (Twitter)
thewannabesaint.com
Corner of My Eye –
This morning I stopped by our main offices to pick up a package and papers which had arrived. As I was leaving the building, looking through my mail, a person caught the corner of my eye. However, my interest was in my hands, not in anything else. "Hi! How are you?" I stopped in my tracks and looked up to see the person asking the question was a co-worker. "I'm sorry. I didn't see you there!" I hastily replied not wanting to come off rude just unobservant. "How was your weekend?" I inquired and we chatted briefly. She left to go inside and I climbed into my truck.
Once inside I thought about my response; "I didn't see you there." It was an honest confession albeit not a good one. I did see someone, a shape, a movement, someone not important enough to tear myself away from looking at the package I received. When I realized it was someone I knew my demeanor and perspective changed. However, the truth is that if it wasn't someone I knew I never would've given the person a second glance. I want to change that. I want to "see" everyone, acknowledge each person I possibly can, not give extra attention simply because I know them but because they are worth looking at, engaging and connecting.
I want to see every "You" there.
blessings,
@BrianLoging (Twitter)
thewannabesaint.com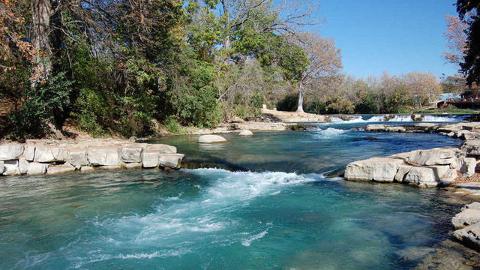 The River –
"Imagine yourself sitting on the bank of a river. The river is your stream of consciousness. Observe each of your thoughts coming along as if they're saying, "Think me, think me." Watch your feelings come by saying, "Feel me, feel me." Acknowledge that you're having the feeling or thought. Don't hate it, judge it, critique it, or move against it. Simply name it: "resentment toward so and so," "a thought about such and such." Then place it on a boat and let it go down the river. When another thought arises—as no doubt it will—welcome it and let it go, returning to your inner watch place on the bank of the river."
#ThomasKeating, "Open Mind, Open Heart: The Contemplative Dimension of the Gospel"
One of the greatest and most difficult realizations is the truth that we are not our thoughts. We are not our actions. We are not our egos. True, each of these can reveal things about us and to the world but we are not these things.
The problem is we've been taught the opposite most of our lives. The famous quote; "Reap a thought, a word, an action, then a destiny," seems right but our thoughts do not have to lead us to who we ultimately become. We can choose to go deeper, change paths, refuse to be captive to our thoughts by breaking free of them.
blessings,
@BrianLoging (Twitter)
thewannabesaint.com