Blog Archives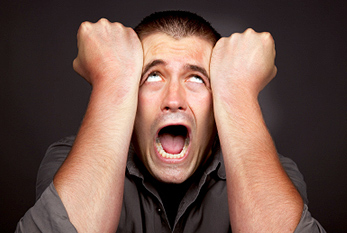 Frustration –
This morning I had an early appointment in Nashville to being a training. I put the address in my GPS app on my phone and off I went. It took me to the exact spot I'd entered into the phone but there was one problem, it was the wrong address. It took me a moment to realize my mistake until I literally got to the end of a dead-end road. Argh! I felt my frustration starting to grow. Instead of being 30 minutes early I was going to be late. I checked the address again, realized where I made my mistake, and set off in the right direction. Trying not to let my anxiety rise to a harmful level I turned on a three-lane road and stopped at a traffic light. I was in the far right lane, an SUV in the center lane, and a sports car in the left lane. I heard yelling and realized it was the SUV driver and the sports car driver having a road rage episode. I couldn't make out much of what they were saying and the words I could understand I don't dare repeat.
I sat there listening and watching the living embodiment of frustration out of control; testosterone, anger, and vitriol spewing out of both of them. It made me take stock of my mood and I realized it wasn't worth getting upset over my mistake and to let it go. I did, arrived at the training on time and am thankful for the lesson two men out of control could teach me.
blessings,
@BrianLoging (Twitter)
thewannabesaint.com
Surfing or Drowning –
I just finished reading an article from seven years ago today about a father and son who were killed by a drunk driver. The mom shared it on social media and the heartache is still present and the wound raw. I can't imagine the pain. I knew the father a little. He was in our church's youth group. He was a few years older than me but always seemed cool. He was an athlete. He ran, biked, swam, and surfed. The morning dad and son were killed they were training for a triathlon. The father was named after his father and the son carried on the tradition. He was the III.
How do you have hope in the midst of such loss? How do you not drown in sorrow? How do you not get lost in such darkness? I don't think there's an easy answer. Quips and quotes don't begin to address the brokenness and reveal our lack of intimacy with death. We do everything we can to avoid it. Most of us try to prolong our lives by any means necessary. When death finally does come we are quick to make the arrangements, organize a memorial or funeral service and push past it as fast as possible. But even then, death finds a way to corner us, trap us, confront us. After the hustle and bustle of meals, flowers, sympathy cards, and services we find ourselves alone when death, misery, mourning, comes calling.
Experts tell us that when we are caught in a riptide to not fight the current or it will surely drown its victim. Let it grab you and then slowly, moving parallel to the shore, slip from its grip. I think this is how we deal with the loss of those we love. There's no escaping and fighting and refusing to acknowledge its power end in certain defeat. To allow it take hold, scare us, shake our faith, sweep our "normal" life away, but not giving up is the key. Slowly our strength returns, we regain our bearings, we slip from its grip, rise above the waters and live.
blessings,
@BrianLoging (Twitter)
thewannabesaint.com
Home –
My friend, role-model, and father passed away early this morning a little after midnight. His fight was over and he was ready. He sat up one last time as if to say, "It's my time. I'm coming home."
The house seemed empty today when we returned from all the breathless running around one does after a loved one takes their final breath. Even though he hasn't been home in a few weeks it seemed he had just left the house. Keys, hats, computers, movies, his chair all still in their proper place. It seems this is still his house, his home. But…it's not. Sure, there are memories and experiences. A lifetime of highs and lows to relive for the rest of our time on this shadow side of eternity but he has moved and left a forwarding address.
I sit in the quietude with his presence still lingering. I think about all of the rough days he's had over the last 8 months, the noises of the machines which were keeping him alive. After we received the phone call we drove over to the hospice house to say our; "Goodbyes." The room was so still. No beeping, whirring, pumping, dripping, nurses checking in. It was motionless and the silence was deafening. My mother began to fill the atmosphere with soft cries, and soft words to her best friend and lover of the last 40 years. My brother and I standing in the background, witnesses to a heart affair which is rare in this world. Finally, after a few more kisses from her on his hands and cheek, we left all thankful we'd never see that room again and that he had moved on to his permanent address.
And now, we are left to carry on. To occupy a house which isn't home without him. To learn to adjust to a new normal we didn't choose. To loosen our grip on this world, this place, because we know home is waiting for us on the other side.
blessings,
@BrianLoging (Twitter)
thewannabesaint.com