Blog Archives
Vision –
Last night Beth and I watched the bio-movie; "The Founder", starring Michael Keaton. It is the story of Ray Croc, the "founder" of McDonald's, the world's largest fast food chain. It is an interesting movie of how Croc took a hamburger stand, owned by the two McDonald's brothers, and made it into a food empire.
At the beginning of the movie, Croc is a persistent, charismatic, but not completely successful restaurant equipment sales rep. While on the road he learns that a place in Bakersfield, California, has ordered six milk shake makers! He's intrigued enough to find out what kind of restaurant needs this many and drives to their location. While there he sees the McDonald's brothers "Speedy System" (where and how the workers are placed in the assembly area) and the unique layout of their restaurant which allows them to make "made to order" hamburgers in less than thirty seconds! Ray Croc is in awe and talks the brothers into letting him begin to sell franchises all over America. Initially, everything goes relatively smoothly but Ray Croc's ambition, craving for money and fame, eventually drive him and the brothers apart. I won't spoil the movie but it's worth watching.
As I was reflecting on the story today I thought about vision and how it unites or divides people. It can be the vision of ourselves, family, community, church, organization, nation or world. Everyone has a vision of how things "should" be and some share the same vision while others oppose it. Competing visions can cause dissension and dissolution of connectedness and relationships.
Wisdom teaches us the more tightly we hold to our visions of things the more suffering we cause ourselves and others. Only when we are open and allow for the possibility of differing views can we be at peace with ourselves and others.
blessings,
@BrianLoging (Twitter)
thewannabesaint.com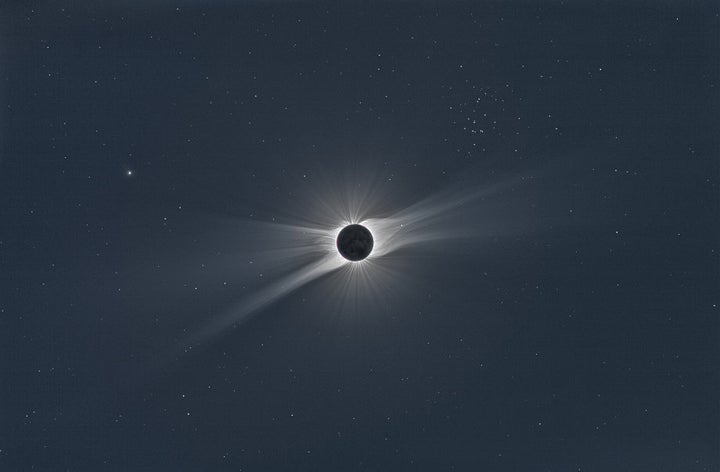 Eclipse –
I'm not sure I've seen as many people standing outside in the middle of a hot and humid day in mid-August staring at the sky. On my way to the county detention center, where I teach a class on Monday afternoons, it seemed there were groups of people at churches, grocery stores, restaurants, manufacturing plants and yes, even at the jail, looking up, waiting for the eclipse.
I didn't pick up a pair of "NASA approved glasses" to watch the eclipse. I figured someone, somewhere would have some if I time to watch the eclipse. Sure enough, there was a corrections officer who let me use his and we handed them back and forth. The day turned a grayish hue. The crickets and other insects began to chirp. It was eerie for a few moments and then it started to get light again, I thanked the officer who let me borrow his glasses, and I went inside to my class.
Afterward, I reflected on the experience and I thought about all the people standing outside looking into the heavens. They knew what they were looking for and most were prepared to see it. However, I wondered how often, on a normal every day, we encounter people who are looking for something greater than themselves and the lives they are currently living? Do we offer them words of wisdom to help show them the way? Do we live in such a way that reveals truth and peace? Will our lives eclipse the other bright shiny trinkets humans so often chase and allow them to know where to look and what to look for?
blessings,
@BrianLoging (Twitter)
thewannabesaint.com
Attention Span –
Beth and I spent some time in our second home today, also known as Lowe's Home Improvement Store. We needed some wood, a screen door and some other odds and ends. We filled our cart up and then headed to the garden section. We made our way down the aisle leading to outside there was a young mother, her baby and what I assumed was the grandmother. The eldest woman was holding a cup of coffee while the mom spoon fed the little one. They had to move out of the center of the aisle as we passed and something on our cart caught the grandmother's attention. As she stared, the mom handed her the baby food container and as she grabbed it, still staring at our cart, the coffee cup slipped out of her hand and splashed on the floor. I couldn't quite make out the expletive that escaped from her lips but the momentary frustration was soon followed by laughter from both the women.
I smiled at the situation because it seemed like something which would happen to me. It also caused me to reflect on the wisdom lessons of embracing what's important, being fully present in the moment, not distracted by shiny things, and allowing things which aren't necessary to slip through our grasp.
blessings,
@BrianLoging (Twitter)
thewannabesaint.com