Blog Archives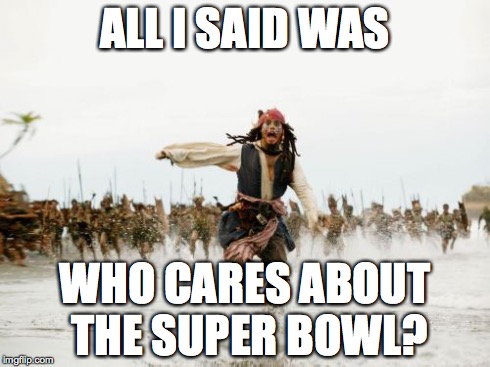 Who Cares?
This morning, in worship service, the pastor asked; "Who's rooting for the Philadelphia Eagles tonight? Who's going for the New England Patriots? Who doesn't care? Who didn't know the Superbowl was being played today?" There were hands and voices raised for each question.
Around 120 million people will watch the Superbowl tonight. That's over a third of the population of this country which is roughly 323 million. Amazing to me that we can watch a football game together but can't seem to unite over much else. It's also a surprise the 2/3 of America doesn't care about the game at all!
I will be rooting for the Philadelphia Eagles. I don't have anything against the Patriots they've just won it so many times I think it would be nice to give it to someone else for a change. The coverage for the big game started early this morning. The network broadcasting the Superbowl had a great interview with a Patriot's receiver, his wife, and children. It was a reminder that individual people, with unique stories, make up the teams.
It's a shame we don't remember that when we are attacking others for their political, cultural and religious opinions and beliefs. We cast a large net over those who don't think like us and label them; "bad" or "good" according to our own fallible judgments.
Maybe, if we could see the individual, listen to their story, discover we're all trying to make it the best we know how, we would realize when we fight all of us lose.
blessings,
@BrianLoging (Twitter)
thewannabesaint.com
What are We? –
This morning I walked into a sanctuary, on this 4th of July weekend, with this shirt staring me in the face. On the back of it was written the Declaration of Independence  (https://en.wikipedia.org/wiki/United_States_Declaration_of_Independence). I found it odd to be wearing this shirt in church but understand that being a Christian and an American go hand in hand for a large number of people. I often wonder which one folks would choose if the choice was forced upon them.
I focused my attention on the words being sung, the scripture being read, the prayers being recited. The final hymn we sang was one I had never heard before but the lyrics moved my spirit. It was entitled; "Lord of all nations, Grant me Grace."
1 Lord of all nations, grant me grace To love all men of every race And in each fellow-man to see My brother, loved, redeemed by thee.

2 Break down the wall that would divide Thy children, Lord, on every side. Let me seek my neighbor's good In bonds of Christian brotherhood.

3 Forgive me, Lord, where I have erred By loveless act and thoughtless word. Make me to see the wrong I do Will crucify my Lord anew.

4 Give me thy courage, Lord, to speak Whenever strong oppress the weak. Should I myself the victim be, Help me forgive, remembering thee.
As we lifted up this song my attention was once again drawn to the man wearing the Declaration of Independence shirt. It seems our country is run by two things; hate for those who disagree with us and fear of those different from us.
The song asks the "Lord of all nations" to allow us a heart big enough to love all people, to see them as our brothers and sisters. At a time where many are wanting walls built this song asks God to break down the wall that would force God's children to choose sides. It challenges us to reach out to our neighbor regardless of race, color, creed or political preference. If we fail to do this we are to ask forgiveness for acts and words that do not espouse "God's love." We are also challenged to have courage when we are oppressed or when we find ourselves on the side of the oppressors, asking forgiveness and speaking God's truth to power.
I wonder how many would wear a shirt with the words to this hymn imprinted on them as the man wore his shirt today. I also reflected on our nation, its claimed Christian heritage, and how we have lost our way.
blessings,
Brian Loging (Twitter)
thewannabesaint.com