Blog Archives
Malevolent or Benevolent –
Last night I listened to a podcast about the psychology of a stalker. A young woman, through no fault of her own, had encountered a patron at her work and treated him nicely, the way she did every customer. The man who received her professional courtesy and kindness took it as a gesture of a personal declaration of her love for him. From then on he would show up at her work, her home, parties and other places. At first, he would watch her for hours, then he began writing poetry, calling her at home, declare his love for her and her for him at different and unexpected places. She reported his behavior to the police, depended on friends to keep him away, moved twice to locations almost five-hundred miles apart. Still, he found her.
He wrote a blog about being a stalker in which he wrote about a love that was benevolent; kind, kindly, kindhearted, big-hearted, good-natured, good, benign, compassionate, caring. He insisted she misunderstood him and accused him of being malevolent; malicious, hostile, evil-minded, baleful, evil-intentioned, venomous, evil, malign, malignant, rancorous, vicious, vindictive, vengeful. He had plans of "fake" kidnapping her and after she went away with him, falling in love with him. His behavior was spiraling and finally, after attacking another woman, he was put in jail for thirteen months for assault, stalking and predatory behavior. Before, during and after being incarcerated, he wrote a book about a man who fell in love with a beautiful woman who eventually learned to love him. People can find the book for sale online today and the blog he still writes.
Love gone wrong, gone bad, corrupted, coercive and corrosive is not love but selfishness painted in illusion. As I listened to the podcast last night I couldn't help but think a lot of what's wrong with our world today is people not knowing the difference between malevolent and benevolent.
blessings,
@BrianLoging (Twitter)
thewannabesaint.com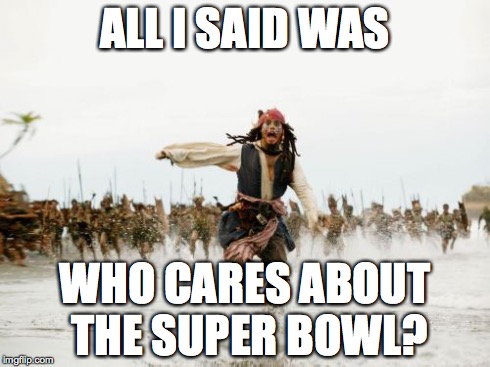 Who Cares?
This morning, in worship service, the pastor asked; "Who's rooting for the Philadelphia Eagles tonight? Who's going for the New England Patriots? Who doesn't care? Who didn't know the Superbowl was being played today?" There were hands and voices raised for each question.
Around 120 million people will watch the Superbowl tonight. That's over a third of the population of this country which is roughly 323 million. Amazing to me that we can watch a football game together but can't seem to unite over much else. It's also a surprise the 2/3 of America doesn't care about the game at all!
I will be rooting for the Philadelphia Eagles. I don't have anything against the Patriots they've just won it so many times I think it would be nice to give it to someone else for a change. The coverage for the big game started early this morning. The network broadcasting the Superbowl had a great interview with a Patriot's receiver, his wife, and children. It was a reminder that individual people, with unique stories, make up the teams.
It's a shame we don't remember that when we are attacking others for their political, cultural and religious opinions and beliefs. We cast a large net over those who don't think like us and label them; "bad" or "good" according to our own fallible judgments.
Maybe, if we could see the individual, listen to their story, discover we're all trying to make it the best we know how, we would realize when we fight all of us lose.
blessings,
@BrianLoging (Twitter)
thewannabesaint.com