Blog Archives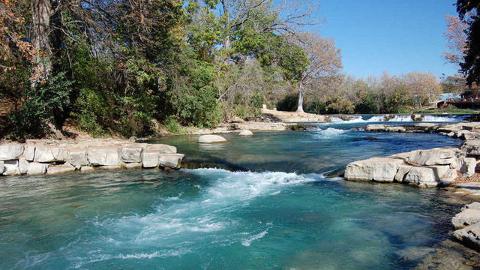 The River –
"Imagine yourself sitting on the bank of a river. The river is your stream of consciousness. Observe each of your thoughts coming along as if they're saying, "Think me, think me." Watch your feelings come by saying, "Feel me, feel me." Acknowledge that you're having the feeling or thought. Don't hate it, judge it, critique it, or move against it. Simply name it: "resentment toward so and so," "a thought about such and such." Then place it on a boat and let it go down the river. When another thought arises—as no doubt it will—welcome it and let it go, returning to your inner watch place on the bank of the river."
#ThomasKeating, "Open Mind, Open Heart: The Contemplative Dimension of the Gospel"
One of the greatest and most difficult realizations is the truth that we are not our thoughts. We are not our actions. We are not our egos. True, each of these can reveal things about us and to the world but we are not these things.
The problem is we've been taught the opposite most of our lives. The famous quote; "Reap a thought, a word, an action, then a destiny," seems right but our thoughts do not have to lead us to who we ultimately become. We can choose to go deeper, change paths, refuse to be captive to our thoughts by breaking free of them.
blessings,
@BrianLoging (Twitter)
thewannabesaint.com
Idols and Illusions –
I would add to the quote attached to this post anything that's fleeting, temporal, transitory, this that tell us lies about ourselves or others. Things like politics, money, jobs, reputations. Idols are all of these and more which fix our focus on the illusion that we are in control, we are powerful and by our wills, the world can be recreated in our image. It is this illusion that destroys our world and ourselves.
This morning part of my contemplation and meditation time included a portion of the Second Book of Kings, chapter seventeen, verse 15; "They worshipped false idols and became false." I have read that several times today, talked about it with a friend and wrote it down in a journal. It says we become what we worship. Where our heart is, our mind, emotions, spirits, where our energies are applied is what we are and what we become.
Idols and illusions are hard to see sometimes. Breaking free from them isn't easy. #AlbertEinstien said; "All of reality is an illusion, a persistent one, but still an illusion."
blessings,
@BrianLoging (Twitter)
thewannabesaint.com