Blog Archives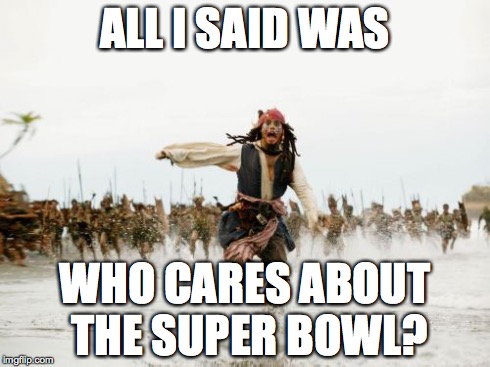 Who Cares?
This morning, in worship service, the pastor asked; "Who's rooting for the Philadelphia Eagles tonight? Who's going for the New England Patriots? Who doesn't care? Who didn't know the Superbowl was being played today?" There were hands and voices raised for each question.
Around 120 million people will watch the Superbowl tonight. That's over a third of the population of this country which is roughly 323 million. Amazing to me that we can watch a football game together but can't seem to unite over much else. It's also a surprise the 2/3 of America doesn't care about the game at all!
I will be rooting for the Philadelphia Eagles. I don't have anything against the Patriots they've just won it so many times I think it would be nice to give it to someone else for a change. The coverage for the big game started early this morning. The network broadcasting the Superbowl had a great interview with a Patriot's receiver, his wife, and children. It was a reminder that individual people, with unique stories, make up the teams.
It's a shame we don't remember that when we are attacking others for their political, cultural and religious opinions and beliefs. We cast a large net over those who don't think like us and label them; "bad" or "good" according to our own fallible judgments.
Maybe, if we could see the individual, listen to their story, discover we're all trying to make it the best we know how, we would realize when we fight all of us lose.
blessings,
@BrianLoging (Twitter)
thewannabesaint.com
Extra –
At a health council meeting today a speaker gave a presentation on going the extra mile. She asked; "Where did this saying come from?" I thought for sure someone would answer but no one did so finally I replied; "Jesus." She smiled and moved on with her talk. She explained in the time of the Roman Empire there was a rule that if a soldier or other important dignitary asked you to help carry some of their weaponry or baggage you were obligated to carry it one mile. Jesus, however, in Matthew chapter 5, said; "If someone has you carry their stuff one mile go ahead and make it two." The speaker continued; "The first mile is obligation the second mile is voluntary. It's the second-mile people remember. When you move beyond your comfort zone, when you give more than what you can afford to, do more than you were asked or expected, offer kindness, grace, and love abundantly, extravagantly."
As I reflected on her presentation it was a good reminder that what the world expects and usually gets is the minimum, the essentials. When someone digs deeper, cares greatly, meets the greatest of needs, it matters and stays with the one helped and the one helping.
"I've learned that people will forget what you said, people will forget what you did, but people will never forget how you made them feel." #MayaAngelou
blessings,
@BrianLoging (Twitter)
thewannabesaint.com