Blog Archives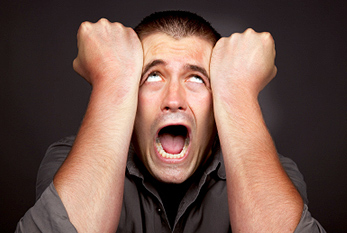 Frustration –
This morning I had an early appointment in Nashville to being a training. I put the address in my GPS app on my phone and off I went. It took me to the exact spot I'd entered into the phone but there was one problem, it was the wrong address. It took me a moment to realize my mistake until I literally got to the end of a dead-end road. Argh! I felt my frustration starting to grow. Instead of being 30 minutes early I was going to be late. I checked the address again, realized where I made my mistake, and set off in the right direction. Trying not to let my anxiety rise to a harmful level I turned on a three-lane road and stopped at a traffic light. I was in the far right lane, an SUV in the center lane, and a sports car in the left lane. I heard yelling and realized it was the SUV driver and the sports car driver having a road rage episode. I couldn't make out much of what they were saying and the words I could understand I don't dare repeat.
I sat there listening and watching the living embodiment of frustration out of control; testosterone, anger, and vitriol spewing out of both of them. It made me take stock of my mood and I realized it wasn't worth getting upset over my mistake and to let it go. I did, arrived at the training on time and am thankful for the lesson two men out of control could teach me.
blessings,
@BrianLoging (Twitter)
thewannabesaint.com
Smoldering –
On Saturday afternoon I burned a pile of branches, old newspapers, and other miscellaneous items. The smell of the ashes and leftover debris lingered in the air the next day. I had forgotten to grab an old wooden rocking chair out of the reading room which also needed to be disposed of. When I noticed it Sunday afternoon I wondered if the smoldering ash would still be hot enough to do anything. I took the chair out, broke it into several pieces and put some under the coals, which were still a faint orange, and put the rest in a pile on top. I checked it after a while and noticed the smoke had increased. About an hour later the wood was ablaze with a good flame. It didn't take long to consume it once the fire restarted. Not too long afterward the chair was gone.
I wrote last week about the struggles I have when February rolls around. Many years have passed but the layers of hurt, anger, and uncertainty still lay buried, ready to ignite when fuel is added. What I try to do, instead of dwelling on the past, is not feed the flames. When I am aware and notice my mind drifting back to the place of pain I find a place to breathe. I close my eyes and take deep breaths. I remind myself of the truth that I cannot change the past but I can be present in the now. Does it always work? No. Does it work? Yes. Maybe one day I will be healed, maybe not, but I don't want to give up on living today because of the difficulties of yesterday.
blessings,
@BrianLoging (Twitter)
thewannabesaint.com
Caged –
He paced back and forth like a caged tiger. I watched him as he went side to side, back to front. At first, he was on a phone call and then afterwards he continued his anxious pacing. I was sitting, waiting, in a room at our county jail which was mostly glass facing the pacing man. I knew what he was feeling because I was struggling with the same anxiety. My classroom wasn't ready and I was asked to stay in one room until the other one was available. Inside I felt emotionally restless, ready to go, get the class underway.
However, unlike the man pacing back and forth, I noticed what I was doing and took a breath. I folded my hands together placed them on my knees, inhaled and exhaled again. When I was allowed into the classroom I was no longer anxious but settled. I organized the chairs, wrote my notes on the dry-erase board as the men began to come in and find their seats. A worker from the jail checked in to see if everything was okay and I assured her it was. She apologized for the wait. "That's okay,' I replied, 'sometimes having nothing to do, being forced to wait is exactly what we need."
blessings,
@BrianLoging (Twitter)
thewannabesaint.com