Blog Archives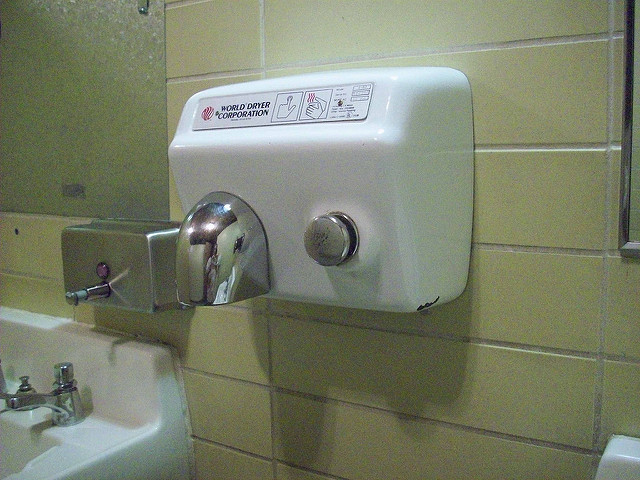 Blow Over –
I have a confession. I don't like air dryers in public restrooms. They either blow too lightly and just move the water further up your arm or they're so powerful they make the skin on your hands look like ripples on a lake. I would rather have paper towels. They're quicker and paper towels are something you can grip, and apply as much or little pressure as you like. You can get them into the crevices and all sides of your hands. When you finish you crumple them up and throw them away,
Today, at a community baby shower in Coffee county, Tennessee, there were booths and tables all over the local mall. Parents, expectant parents and anyone else could discover a lot of information and hands on experience from family experts. Every booth or table had free giveaways. Our table had books and free book bags for families if you listened to my "speech" to help dads understand the importance of reading and being involved in the education of their children.
Each of the community and faith-based organizations were there to help. They allowed parents to know the help and support that was available in the community. The baby shower itself was like a blower in a bathroom covering a lot of things but to get the full coverage, the assistance a family might require, a follow-up would be needed. An opportunity for the organization to get more than a name and contact information. A chance for the family to see the organization in action.
Wisdom teaches us that we must be careful not just to "blow over" each other with banal gestures of friendliness but rather to connect with others in a deep way. Our relationships are not to be a mile wide and an inch deep.
For more posts, reflections and other readings, please visit: http://www.thewannabesaint.com
blessings,
@BrianLoging (Twitter)

Empathy –
My wife is a wonderful woman, and brave. Brave because she went to Wal-Mart on Saturday afternoon! There are many reasons she's wonderful but her concern and empathy for people and other things overwhelms me sometimes. Today, on her way to what we infamously call; "Wally World" a chipmunk jumped on the road and tried to run across when Beth was at the same spot with her car. "Thump, thump," was all she heard but it was enough. She called me a few minutes after leaving the house and I knew something had happened. "Hello?" I answered. "Hey. I ran over a chipmunk," she replied on the verge of tears. "It came out of nowhere and I tried to stop but couldn't and that's when I heard the 'Thump!'" I listened to her and told her I was sorry. "I know you would never do that if you could avoid it." She knew this also and after a while she was okay. I asked her to be safe and remember that I love her. We hung up and the rest of the day has been without incident but the confession over her accidentally taking the life of a rodent is one of the many reasons my life is better because she's in it.
While she was gone, after the phone call, I reflected on her having a heart big enough that a chipmunk she didn't know existed a moment before the incident could have an impact on her. I wondered what our families, communities, nation, and the world would be like if each of us had the respect, concern, and empathy for all things, especially each other. I think we'd all live and be in a happier, safer, place.
blessings,
@BrianLoging (Twitter)
thewannabesaint.com
This morning was communion Sunday. At our place of worship we celebrate it monthly. This sacrament is special to most believers and specifically for me. Normally, communion is held on the first Sunday of the month, however, the pastor was on vacation last week so today was when the elements would be served.
I've been fighting a sinus infection the past several days and the symptoms that go with it. Being sick is never fun and meds plus mucus can equal bad breath. Fearing someone might collapse as I was talking with them I've been keeping a supply of breath mints with me this week.
Coming into the sanctuary this morning I popped a large spearmint candy into my mouth. About half way through the service, and my breath mint, the stewards were called forward and began distributing the wafers and grape juice (our denomination doesn't use wine). "Uhoh," was my first thought. "What do I do with the too big to swallow, don't want to break my teeth trying to chew it, piece of candy?" Finally, I surreptitiously removed it so I would be able to; "eat the bread (body) and drink the juice (blood.)"
After reflecting upon the symbolism of the Last Supper, prayerfully considering and confessing the state of my spirit and life I ate and drank. The taste was odd. Unleavened bread, Welch's grape juice doesn't mix well with spearmint. Slowly, the strange flavor faded and the taste of the elements was all that remained.
As the worship service continued I thought about the breath mint and what to do with it. I decided to discard it. I preferred the new taste was better and wanted it to last as long as possible.
blessings,
@BrianLoging (Twitter)
http://www.thewannabesaint.com