Blog Archives
Bad News –
A new pastor, on his first Sunday, preached the sermon and following the dismissal prayer, greeted people at the door as they were leaving. A man in a bright red sports jacket was next in line and before the preacher could say anything he blurted out; "That was a terrible sermon!" Taken aback the pastor tried to figure out his next words but the man left before he could reply. After a while, he noticed the man in the bright red sports jacket in line again. This time he said; "You could not have possibly studied for that message. It was a mess!" Again the pastor was at a loss for words and the man was gone. As the line to meet the new pastor was ending he couldn't believe the last person in line was the guy in the red sports jacket! "I don't know if I'll come back if that's the best you can do!" Abruptly he walked out the door and this time the pastor watched him get into his car and drive away. The new reverend, obviously shaken by this man's constant critique saw a group of folks in the foyer, wandered over, and asked' "What is the deal with the man in the red sports jacket?" "Oh, don't worry about him replied a parishioner. He only repeats what he hears other people saying."
Bad news. Sometimes we expect it other times it takes us by surprise. No matter who we are, what we do, sooner or later we get bad news. It may be from our spouse, boss, doctor, friend, co-worker, or stranger. The challenge isn't what to do if bad news comes but when it shows up. Our choices following an announcement of bad tidings are often more important, and have a greater impact, than the news itself. The space in between the news and the choices we make are critical. This is why wisdom, knowledge, peace, acceptance, clarity should be discovered now. When bad news comes chances are you will do what you know and many times the battle is won before the soldier takes the field.
For more posts, reflections, poems, and other writings, please visit:
http://www.thewannabesaint.com
blessings,
@BrianLoging (Twitter)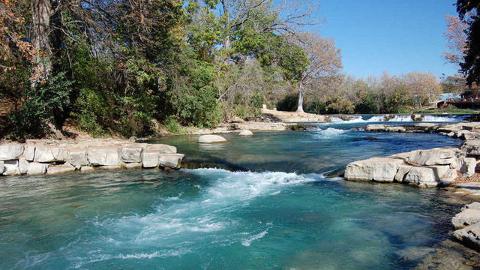 The River –
"Imagine yourself sitting on the bank of a river. The river is your stream of consciousness. Observe each of your thoughts coming along as if they're saying, "Think me, think me." Watch your feelings come by saying, "Feel me, feel me." Acknowledge that you're having the feeling or thought. Don't hate it, judge it, critique it, or move against it. Simply name it: "resentment toward so and so," "a thought about such and such." Then place it on a boat and let it go down the river. When another thought arises—as no doubt it will—welcome it and let it go, returning to your inner watch place on the bank of the river."
#ThomasKeating, "Open Mind, Open Heart: The Contemplative Dimension of the Gospel"
One of the greatest and most difficult realizations is the truth that we are not our thoughts. We are not our actions. We are not our egos. True, each of these can reveal things about us and to the world but we are not these things.
The problem is we've been taught the opposite most of our lives. The famous quote; "Reap a thought, a word, an action, then a destiny," seems right but our thoughts do not have to lead us to who we ultimately become. We can choose to go deeper, change paths, refuse to be captive to our thoughts by breaking free of them.
blessings,
@BrianLoging (Twitter)
thewannabesaint.com