Blog Archives
Wasted Minds –
This has been a tumultuous week following the shooting at Parkland High School in Florida. People have chosen sides on the gun debate and have used this tragedy as an example as to why they are on the side of the angels. I've seen countless posts about gun rights and gun restrictions. I have posted my opinion on the gun debate on my blog in the last couple of weeks if you care to know where I stand on this cultural, moral and spiritual issue. Everyone has their argument at the ready. They grab screenshots, tweet, put a photo on Instagram, use memes, videos and Facebook are so full of posts on the issue it's hard to find anything else.
I think it's an issue which needs many conversations. There's not an easy solution and anyone who thinks there is hasn't thought about it enough. What doesn't need to happen is more arguing over the subject. We are a divided people in our country and it seems every "Breaking News" headline on whatever channel we watch, or website we read, erodes our relationships with those with differing views more.
Whatever side we're on, opinion we possess, idea we espouse, we should also respect and love our neighbor.  If we can't then our voice is wasted, nothing changes and the world continues to go to hell.
blessings,
@BrianLoging (Twitter)
thewannabesaint.com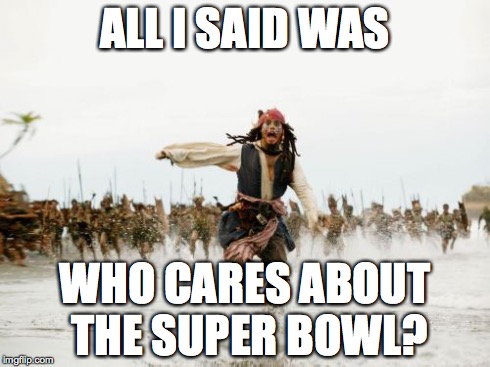 Who Cares?
This morning, in worship service, the pastor asked; "Who's rooting for the Philadelphia Eagles tonight? Who's going for the New England Patriots? Who doesn't care? Who didn't know the Superbowl was being played today?" There were hands and voices raised for each question.
Around 120 million people will watch the Superbowl tonight. That's over a third of the population of this country which is roughly 323 million. Amazing to me that we can watch a football game together but can't seem to unite over much else. It's also a surprise the 2/3 of America doesn't care about the game at all!
I will be rooting for the Philadelphia Eagles. I don't have anything against the Patriots they've just won it so many times I think it would be nice to give it to someone else for a change. The coverage for the big game started early this morning. The network broadcasting the Superbowl had a great interview with a Patriot's receiver, his wife, and children. It was a reminder that individual people, with unique stories, make up the teams.
It's a shame we don't remember that when we are attacking others for their political, cultural and religious opinions and beliefs. We cast a large net over those who don't think like us and label them; "bad" or "good" according to our own fallible judgments.
Maybe, if we could see the individual, listen to their story, discover we're all trying to make it the best we know how, we would realize when we fight all of us lose.
blessings,
@BrianLoging (Twitter)
thewannabesaint.com