Blog Archives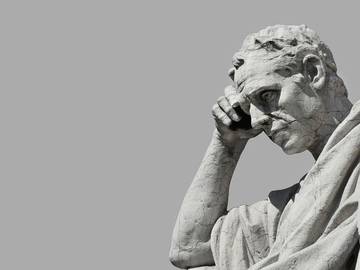 To Think –
I am currently teaching a men's class on Wednesday evenings in a city that's an hour away from home. This means on Wednesday afternoon and evening I have a bit of time on my hands. I spent most of it yesterday talking with fathers on the phone. A couple of hours to myself gives me time to think about my day, week, schedule and the materials I will be teaching and how the class went on the way back.
Thinking is a balancing act for someone like me with a Severe Anxiety Disorder. If I'm not careful thinking can turn to rumination and going over and over a situation, interaction, occasion in my mind. I described it one time to my therapist; "My over-thinking is like bubblegum. You chew on it and for a while, you get something tasty. Soon, however, all the flavor is gone and you're chewing a piece of wet rubber." I try to be aware of my thoughts and if I'm fixating on a particular subject. When I catch myself I turn on the radio, a podcast or music.
Wisdom tells us; "We cannot stop thoughts from entering the door of our minds
but we do not have to serve them tea."
blessings,
@BrianLoging (Twitter)
thewannabesaint.com
Bliss –
I was asked earlier this week by my talk therapist; "What is your perfect life?" I didn't hesitate in describing to her my idea of bliss. After listening, she paused a few moments and asked; "Why do you not have this life?" I reflected on her question and responded; "Because it would screw up other people's life." I know my perfect life doesn't equal the image, illusion, of what those who are connected to me have of their "perfect life." My idea of a perfect life isn't grandiose or over the top. It's simple but would complicate my relationships with those who love and care for me the most. These complications would make my life imperfect. So, the choice to let go of what I think I want, need and accept what I have is key to stillness of mind and spirit.
Life isn't complicated. We choose to make it that way. One of the ways we make it this way is comparing our "perfect lives," or the idea of what we think perfection would be, with what our lives are currently. These types of comparisons only cause us to suffer, to strive for an illusion that is improbable. Letting go of comparisons about our lives, each other, and accept this moment, exactly as it is, is a big step forward on the road to a wise and content existence.
blessings,
@BrianLoging (Twitter)
thewannabesaint.com