Blog Archives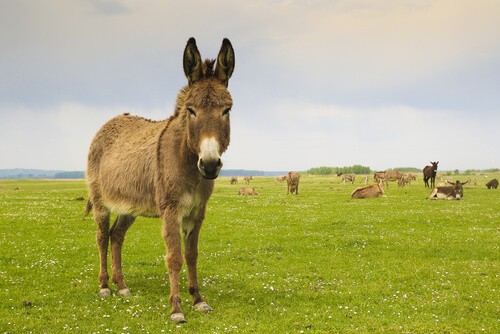 Stubbornness or Stillness?
This morning I had a meeting in Fayetteville, Tennessee. On my way, driving on country back roads I passed a Burro, standing by a fence. The other cows and critters in the pasture were nowhere near it but there it stood facing the morning sun. A few hours later I was returning home and passed the same Burro in almost the same spot as it was in earlier. It paid no attention to the automobiles coming and going or the other animals in the field.
As I watched the Burro I thought about its unwanted and unwarranted reputation of being resistant, refusing to obey, obstinately going its own way and doing its own thing. However, I did wonder; "Is he being stubborn or still?" I finally decided he was simply being still. He was facing the sun, he was on level ground, he wasn't distracted.
I reflected on my day and my mental state and thought; "I long to be like the Burro; enlightened, sure-footed and mindful."
blessings,
@BrianLoging (Twitter)
thewannabesaint.com
Fuel
This morning, on my way to speak to a group of men with addictions, I stopped by a gas station. Pulling in, the pump I was hoping to use was occupied, so I chose another one and began filling up. I looked over at the vehicle parked beside the other gas pump and noticed the woman sitting in her car talking on the phone. She had finished getting her fuel but hadn't pulled out of the way for the next person. As I continued filling up, she completed her call and then began reading either a book or a magazine. Finished, I hopped in the truck and began pulling away from the pump, glanced over my shoulder and there the driver still sat, reading and taking up a space someone else needed.
Driving away I thought about traveling the road of life. There are times we need recovery, renewal, restoration of our emotions and spirits to continue our journey. During these pit-stops I hope to encounter folks who are as interested in; "refilling my tank" as they are in theirs and pray that I'll return the favor.
blessings,
@BrianLoging (Twitter)
thewannabesaint.com
When it comes to pet peeves most of us could open a zoo.
One of my driving p.p's are folks who pull out in
front of fast moving traffic and then go slooooooooooooooooooooooooow. It's one that really makes me nuts, so I try to make sure not to be in the passing lane unless I'm, well, passing.
Last Sunday morning, driving on a beautiful stretch of highway, things on my mind, I was content with driving on the slower side. A truck, with a driver that wasn't as blissful, came roaring up behind and flew past me and the other right laners.
A few moments later, and a little further down the way, a deer bolted out of the woodlands that hug the sides of the highway nearly missing the speeding truck.  My first thought was, "see what happens when you're in a rush, a hurry?" Almost as quickly as these ideas formed in my mind, another one of Bambi's cousins hopped in front of me! Two deer, two drivers, two approaches to driving, two making adjustments to avoid an accident.
Wouldn't it be nice if being mindful immuned us from these surprises? If a reflective way of life helped us avoid things that seek to wreck our journey?
However, there is no formula to a life that's perfect and predictable. The secret to life is that there is no secret. Being thoughtful doesn't equal the world thinking of others more. Seeking wisdom doesn't mean other people are going to be more wise.  A more relaxed you will still encounter those who are stressed out!
The sun is going to rise on the good and the bad, rain will fall on the just and unjust. Blessed and trying times affect us all and life refuses to be tamed.
Being purposeful, embracing inner stillness, will not keep dangers from darting unexpectedly onto the path we travel, but they can help us adjust to life's surprises and bring the gift of mindfulness to others who we encounter along the way.
staying focused on the road,
bdl