Blog Archives
Sounds Like –
Twenty years ago this week an F3 tornado tore through downtown Nashville, Tennessee (http://www.wkrn.com/news/f-3-tornado-hit-nashville-20-years-ago_20180416214213/1126239206) We weren't living in Tennessee at that time but we happened to be in Nashville chaperoning hundreds of teenagers at an annual talent and skills competition on the campus of Trevecca Nazarene University. When the announcement came down that all were supposed to seek shelter several of us ran to the different ball fields, tennis courts and other places where events were being held. Making sure to get everyone we saw to safety without a lot of chit-chat was important, however, one young teenage girl stopped and with fear in her eyes and voice asked me if we were in the path of the tornado? Guiding her inside as I answered; "I don't know." "How will we know?" she inquired. Not being a meteorologist I repeated what I once had been told; "A tornado sounds like a train!" Unbeknownst to my inquisitor, there was a set of railroad tracks behind the campus of Trevecca. At the exact time, I told her a tornado sounded like a train a train going past the school sounded its horn. "I hear the tornado! I hear the tornado!" I peered into her fear brimmed eyes, smiled and said; "Sweetie, tornadoes may sound like trains but they don't come equipped with horns." I got her with the rest of the students in a basement, shut the door and stood outside watching, listening for the tornado and laughing, thankful that even in this storm of chaos a light of joy can shine through.
blessings,
@BrianLoging (Twitter)
thewannabesaint.com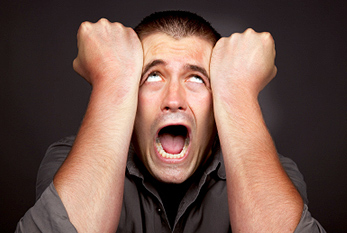 Frustration –
This morning I had an early appointment in Nashville to being a training. I put the address in my GPS app on my phone and off I went. It took me to the exact spot I'd entered into the phone but there was one problem, it was the wrong address. It took me a moment to realize my mistake until I literally got to the end of a dead-end road. Argh! I felt my frustration starting to grow. Instead of being 30 minutes early I was going to be late. I checked the address again, realized where I made my mistake, and set off in the right direction. Trying not to let my anxiety rise to a harmful level I turned on a three-lane road and stopped at a traffic light. I was in the far right lane, an SUV in the center lane, and a sports car in the left lane. I heard yelling and realized it was the SUV driver and the sports car driver having a road rage episode. I couldn't make out much of what they were saying and the words I could understand I don't dare repeat.
I sat there listening and watching the living embodiment of frustration out of control; testosterone, anger, and vitriol spewing out of both of them. It made me take stock of my mood and I realized it wasn't worth getting upset over my mistake and to let it go. I did, arrived at the training on time and am thankful for the lesson two men out of control could teach me.
blessings,
@BrianLoging (Twitter)
thewannabesaint.com
Stolen –
Earlier this week someone took something that didn't belong to them. I knew who it was but had to figure out how to ask for the item back without humiliating or embarrassing the person in front of his peers. At first, I asked the group if anyone had forgotten to return all items they had used. Nothing. So then, standing next to the man who had the item, I said; "Okay, who has (insert item name)?" The man started to laugh and gave it to me while the other people in the group laughed with him. "I almost got away with it," he said with a chuckle in his voice. I breathed a sigh of relief because I knew I couldn't let him walk away and a confrontation could have a detrimental impact on the progress we've made. Obviously, he's still a work in progress but aren't we all?
Good choices. It's the cornerstone of all the services our organization does with males. Without good choices, life is harder than it needs to be and can exact a tremendous and painful toll. Old habits, ways of thinking, choosing the best isn't easy but not impossible. Grace, kindness and an opportunity for forgiveness are things we all need.
blessings,
@BrianLoging (Twitter)
thewannabesaint.com