Blog Archives
Touching Life –
I watched a video today about a woman, who is afraid of spiders, try to get past her fear by being in the same room, sitting close to one, and eventually touching one and allowing it to touch her. It was an interesting study of fear, facing what frightens us and hopefully overcoming it.
Being fearful keeps us from participating in all life has to offer. As someone with an anxiety disorder, I am acutely acquainted with fear, in fact, its one of my worst friends. I don't know the source of my fear. One of the reasons I go to therapy is to hopefully one day discover it. Perhaps its as simple as a chemical imbalance and the right combination of medicines will mostly alleviate the ball of worry and stress which sits on my stomach most days. Maybe its memories or experiences which I've buried and one-day uncovering them will set me on the path to a more lasting peace.
Whatever the path I travel I want it to be toward knowing joy, not fear, connecting not being disconnected, living not simply existing.
blessings,
@BrianLoging (Twitter)
thewannabesaint.com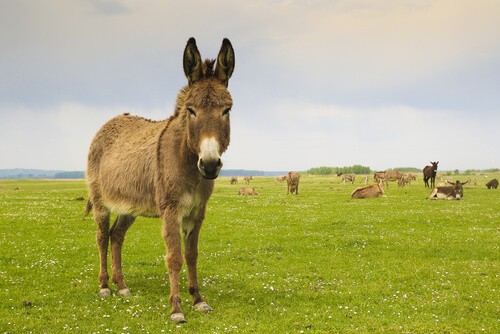 Stubbornness or Stillness?
This morning I had a meeting in Fayetteville, Tennessee. On my way, driving on country back roads I passed a Burro, standing by a fence. The other cows and critters in the pasture were nowhere near it but there it stood facing the morning sun. A few hours later I was returning home and passed the same Burro in almost the same spot as it was in earlier. It paid no attention to the automobiles coming and going or the other animals in the field.
As I watched the Burro I thought about its unwanted and unwarranted reputation of being resistant, refusing to obey, obstinately going its own way and doing its own thing. However, I did wonder; "Is he being stubborn or still?" I finally decided he was simply being still. He was facing the sun, he was on level ground, he wasn't distracted.
I reflected on my day and my mental state and thought; "I long to be like the Burro; enlightened, sure-footed and mindful."
blessings,
@BrianLoging (Twitter)
thewannabesaint.com
Caged –
He paced back and forth like a caged tiger. I watched him as he went side to side, back to front. At first, he was on a phone call and then afterwards he continued his anxious pacing. I was sitting, waiting, in a room at our county jail which was mostly glass facing the pacing man. I knew what he was feeling because I was struggling with the same anxiety. My classroom wasn't ready and I was asked to stay in one room until the other one was available. Inside I felt emotionally restless, ready to go, get the class underway.
However, unlike the man pacing back and forth, I noticed what I was doing and took a breath. I folded my hands together placed them on my knees, inhaled and exhaled again. When I was allowed into the classroom I was no longer anxious but settled. I organized the chairs, wrote my notes on the dry-erase board as the men began to come in and find their seats. A worker from the jail checked in to see if everything was okay and I assured her it was. She apologized for the wait. "That's okay,' I replied, 'sometimes having nothing to do, being forced to wait is exactly what we need."
blessings,
@BrianLoging (Twitter)
thewannabesaint.com