Blog Archives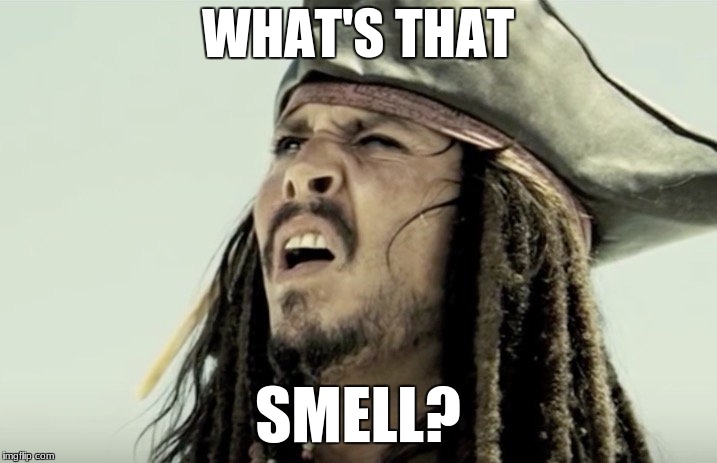 Something Stinketh –
A funny way to start this post, but something near our bathroom stinks! It's not in the bathroom, or who is in the bathroom, but in the foyer outside of it. Last night would've been a good time for my wife to take a picture as I crawled around on all fours trying to figure out where the smell was coming from. We've moved furniture, sniffed walls, looked under, around, beside items and cannot find the source of the stench. In the bathroom foyer, there is a door to my workshop and Beth thinks this may be where it's coming from. When there is an odor you cannot ignore it and it can be hard to do anything else because the smell is distracting. It seems to permeate your nostrils and locating and removing it is the only solution.
Wisdom teaches us about the stench of others' attitudes, motives, and words. When someone in our lives is the source of the stench there are a few options. We can air out our grievances with the other and see if we can eliminate them. Perhaps we can, after trying other options, remove the "smelly" person or ourselves from the current workspace. If forced, we can find somewhere else to work. Friends with foul attitudes can be confronted and distanced from if needed. Family members are harder but can be done with sensitivity and a willingness to create space between ourselves and someone whose odor infiltrates our lives.
Our time on this planet is too short to be connected to those who refuse to work on their attitude's aroma. We also want to make sure and do a "smell test" on ourselves and make any adjustments as well.
blessings,
@BrianLoging (Twitter)
thewannabesaint.com
How Could He?
Here is Tennessee and even across America, there is a question that is on many people's mind; "Why did the father of a five-year-old Autistic boy beat his son to death and then hide his body? How could this father then claim the boy had wandered off and allowed law enforcement officials, volunteers, and others to search areas near his home for three days thinking the boy was alive?" (http://fox17.com/news/local/dad-beat-son-joe-clyde-daniels-to-death-hid-his-body-in-remote-area-affidavit) Its horrible, vile, evil, confusing, and no matter the answers they will not satisfy a grieving family and community.
The next two days I will be training to be a trainer in Adverse Childhood Experiences. According to "SAMSHA (Substance Abuse Mental Health Agency) describes "Adverse childhood experiences or (ACEs)" as stressful or traumatic events, including abuse and neglect. They may also include household dysfunction such as witnessing domestic violence or growing up with family members who have substance use disorders. ACEs are strongly related to the development and prevalence of a wide range of health problems throughout a person's lifespan, including those associated with substance misuse. ACEs include: Physical abuse, Sexual abuse, Emotional abuse, Physical neglect, Emotional neglect, Intimate partner violence, Mother treated violently, Substance misuse within a household, Household mental illness, Parental separation or divorce, Incarcerated household member."(https://www.samhsa.gov/capt/practicing-effective-prevention/prevention-behavioral-health/adverse-childhood-experiences)
Put simply; what happens to one when growing up impacts that individual's behavior, physical and mental health as adults. It changes the question from; "Why or How could you?' to 'What happened to you?" The difference is all the difference. It allows for context and the ability to understand, not approve, why a person would do something incredibly harmful to others or to themselves by researching their backgrounds, cultural, community, familial and social environments.
It will be a challenging and difficult two days especially in light of the tragedy that unfolded over the past week. However, only when our emotional and intellectual biases are confronted can we move beyond them to greater wisdom and knowledge.
blessings,
@BrianLoging (Twitter)
thewannabesaint.com
Posted in Mental Health
Tags: ##witnessing, #ability, #abuse, #ACES, #adults, #Adverse, #AdverseChildhoodExperiences. #SAMSHA, #alive, #allowed, #allows, #answers, #approve, #associated, #Autistic, #backgrounds, #beat, #behavior, #beyond, #biases, #blessings, #body, #challenging, #changes, #childhood, #claim, #confronted, #confusing, #context, #cultural, #death, #development, #difference, #difficult, #divorce, #domestic, #dysfunction, #emotional, #Emotionalabuse, #Emotionalneglect, #environments, #evil, #experiences, #familial, #familymembers, #five-year-old, #greater, #grieving, #Growingup, #happens, #harmful, #healthproblems, #hide, #horrible, #household, #Householdmentalillness, #HowCouldHe, #impacts, #incarcerated, #include, #incredibly, #individuals, #intellectual, #Intimatepartnerviolence, #knowledge, #lawenforcement, #lifespan, #light, #mental, #mother, #move, #neglect\, #officials, #Parentalseparation, #persons, #physical, #Physicalabuse, #Physicalneglect, #prevalence, #question, #related, #researching, #satisfy, #search, #Sexualabuse, #simply, #social, #Stressful, #strongly, #SubstanceAbuseMentalHealthAgency, #substancemisuse, #substanceusedisorders, #thewannabesaint.com, #Tragedy, #trainer, #training, #traumatic, #treated, #understand, #unfolded, #vile, #violence, #violently, #volunteers, #wandered, #Whathappened, #widerange, #wisdom, @BrianLoging,  Family, Community, Events, father, Health, Home, Mind