Blog Archives
Popped in the Mouth –
The other day I heard a discussion between two women about a mom "popping" her adolescent child in the mouth. I cringed as the two women agreed sometimes it has to be done when a kid won't stop talking back. This week #RoaseanneBarr was "popped" for using words which degrade and dehumanize others. I once had an adult tell me they were "popped" in the mouth by a parent when they were in college for not respecting her parents. I think all of us at one point or another have been "popped" because of something coming out of mouths that weren't needed, necessary or helpful.
The swift punishment "popping" implies is that the words were barely out of the mouth before being punished. I've reflected on the words which have come out of my mouth over the years and if I was punished for every wrong phrase or wording, egotistical and asinine thing I've let loose I'd be hurting a long time and most of the pain would be deserved.
Words matter! A famous wisdom quote reads; "Do not speak unless it improves upon silence." Perhaps if we were slower to speak the world would have less pain and more love.
blessings,
@BrianLoging (Twitter)
thewannabesaint.com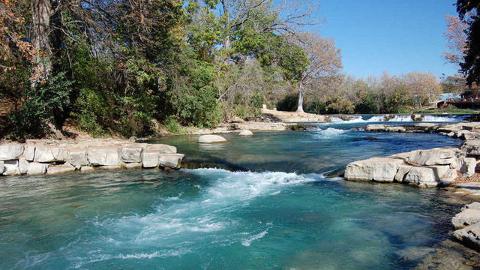 The River –
"Imagine yourself sitting on the bank of a river. The river is your stream of consciousness. Observe each of your thoughts coming along as if they're saying, "Think me, think me." Watch your feelings come by saying, "Feel me, feel me." Acknowledge that you're having the feeling or thought. Don't hate it, judge it, critique it, or move against it. Simply name it: "resentment toward so and so," "a thought about such and such." Then place it on a boat and let it go down the river. When another thought arises—as no doubt it will—welcome it and let it go, returning to your inner watch place on the bank of the river."
#ThomasKeating, "Open Mind, Open Heart: The Contemplative Dimension of the Gospel"
One of the greatest and most difficult realizations is the truth that we are not our thoughts. We are not our actions. We are not our egos. True, each of these can reveal things about us and to the world but we are not these things.
The problem is we've been taught the opposite most of our lives. The famous quote; "Reap a thought, a word, an action, then a destiny," seems right but our thoughts do not have to lead us to who we ultimately become. We can choose to go deeper, change paths, refuse to be captive to our thoughts by breaking free of them.
blessings,
@BrianLoging (Twitter)
thewannabesaint.com
What Matters
Muhammed Ali died this weekend. Tributes have been pouring in from celebrities, heads of state, famous sport's writers and more. They are celebrating his athleticism, his political convictions, his religion, his personality, his life. His funeral will be televised world wide and led by former President Bill Clinton. It should be a spectacle to behold.
The world lost another person this weekend. A woman with grace and class. She gave her life to important causes, impacted many people, had friends from all around the world, was a wonderful mom and grandmother, a committed wife, a cherished friend and an example of what it means to give yourself away so others can find meaning and purpose. Her funeral, also this week, will not be televised, most of the world will not realize she has passed but those who love her will share stories, shed tears and laugh at this one who touched them by living and loving well.
At a time when being famous is a drug many are hooked on and people knowing your name has become the meaning of life. I want to live quietly, love extravagantly, help all I can without publicity and die knowing my existence made the world a better place.
Blessings,
@BrianLoging (Twitter)
thewannabesaint.com