Blog Archives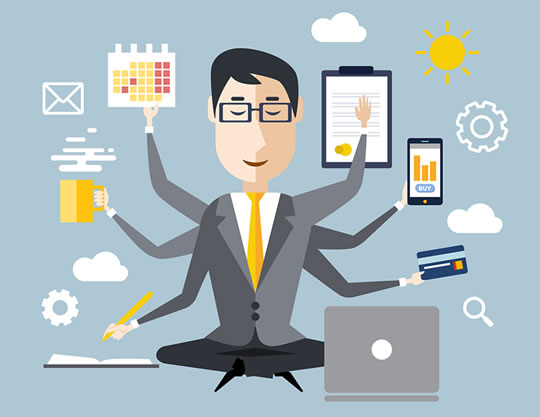 Distraction –
I watched a video today about distraction. It explained how the brain can become accustomed to being unfocused and our inability to change it back. The presenter gave the example of someone having a cellphone in their hand, laying on their desk, next to their plate at a restaurant, or pulling it out of a pocket or purse during a conversation. At this moment the person with whom they are conversing or meeting with realizes they are not the most important person or thing in the room. The cellphone says to the other; "Someone may call who's more important than you. Something might 'ding' indicating a happening that's more important than you." It also impacts the person who has the phone because now they have to look at the screen, see any notifications, continue to check for changes and updates.
I was talking with a group today and part of the session was on; "Listening more than you speak." I used the adage; "You have two ears and one mouth so you can listen twice as much as you speak." We spoke about respect and giving the person you are interacting with your eyes, ears, and mind. Focusing on the other when we are talking, engaging, communicating, connecting, experiencing each other is vital for all participants. When we are made to feel like we one of the many tasks a person has that day we lose our focus and become distracted by their distractions.
blessings,
@BrianLoging (Twitter)
thewannabesaint.com
Hate –
I listened to a conversation this week where the person told another, to their face, that they hated them. "I hated you when you left," they said. "It took a long time to not hate you anymore." It was an honest and startling admission. Most times people are adept at not showing the person they hate their true feelings.
It left me with a question; "Have I ever, in my life, hated someone?" I define hate; as the inability to see the good in someone. As I reflected on the question a person came to mind. If I've ever hated someone, according to my definition, this man fit the criteria. I had the hardest time seeing the good, the light, the benefit of his existence, the unique expression of God in him. It was, at times, impossible to not be suspicious of his motives, think of the worst outcome of his decisions, belittle his beliefs and talents. Then, one day, ranting in my head about something he had done the question came from out of the blue; "Can you see any good in this man?" My mind stopped dead in its tracks. The answer was "no, I couldn't." It was then I realized the problem wasn't him it was me.
I'd love to post about how this moment fixed everything but it didn't. However, it did give me a new way of looking at this person and my role in the frustration, anxiety, and chaos within me. It took me a long time to forgive the hurt and betrayal he had caused but I began focusing on what was going on inside of me instead of what someone was doing on the outside. This made all the difference.
"You will never see God until you can see Him in every next face you see." #SaintMotherTeresa
blessings,
@BrianLoging (Twitter)
thewannabesaint.com
Thought –
When I woke up this morning my positive thought was; "It's not Thursday!" Yesterday I had to go to the dentist and while there are times we must do things which bring us anxiety we can celebrate I am thankful I didn't have to repeat the process today.
It's also a beautiful day. Sunny with a few clouds. Temperatures in the low to mid-80's. In a few moments, I will go and mow the grass. Some weeks, especially during the hot summer days, it's more a chore than a joy but as the days grow shorter I will bask in the sun on my face and driving my little yard tractor.
One thought or several, can indeed change the way you see your day. I know in the future I'll have to go to the dentist again. Soon there will be no need to cut the grass. By the look of the trees and their colors, the days will quickly be cold enough that even the sun won't be able to warm me up.
One of the most positive thoughts, disciplines, we can have is focusing on the good each day brings and not the uncomfortable change which may come with tomorrow.
"Give your entire attention to what God is doing right now, and don't get worked up about what may or may not happen tomorrow. God will help you deal with whatever hard things come up when the time comes."
Gospel of Saint Matthew 6:34, The Master
blessings,
@BrianLoging (Twitter)
thewannabesaint.com