Blog Archives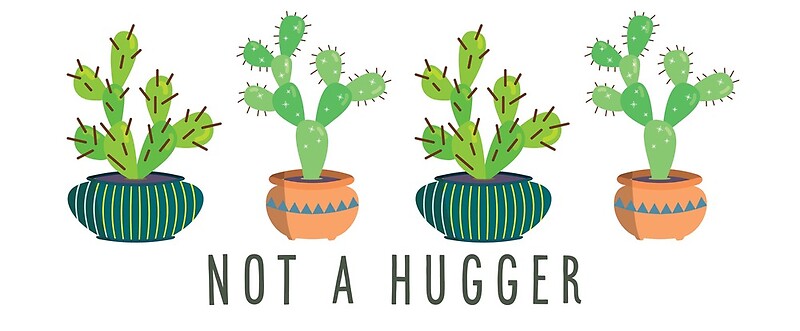 Seriously –
I saw her when we came into the church this morning. She was standing far enough away from us that I found my seat before she zeroed in. This woman, this hugger, does not take "No thanks!" for an answer. A couple of weeks ago she was standing at the front door of the church greeting folks as they came in. She hugged my wife, who is a great hugger! and then extended her arms to me. I tried to fend off her advances by grabbing a hand and shaking it but she was too quick. I even told her; "I'm not a hugger." Didn't matter. She replied as she thwarted my defenses; "Well I am and you're a man and can handle it." I didn't have time to answer and had no desire to debate so once she was finished I found my seat but never the rhythm of the service. I was thankful this morning she was far enough from me I could slip in under her radar.
"You're a man and can handle it." Actually, no, I can't. I have a well established large personal space. It comes from being introverted, claustrophobic and someone who deals with social anxiety. When someone insists on hugging me it's not about me it's about them. She would respond; "I'm friendly." Imagine me saying that to a woman who didn't want a hug and then forcing one upon her. I don't think "friendly" is what she'd feel about me.
It's a reminder that we are all wired differently. Some people are talkers, others observers. One person may love being a social butterfly while another can think of nothing more joyful than a night at home. Extroverts, introverts, center of attention and wallflower. Knowing people, respecting them and helping them feel comfortable and at ease requires a relationship. When someone tells you, asks you to do or not to do something don't dismiss it. Listen to it, take it seriously, and proceed with kindness and caution.
blessings,
@BrianLoging (Twitter)
thewannabesaint.com
Hugging Our Enemy –
I am not a hugger! Could be my social anxiety, could be the belief that hugging is reserved for special people and special occasions. It's probably both.
I do however like the sentiments of this quote; "Hug your haters and kill them with kindness." The first thing I like about it is that hugging and kindness are powerful. They will; "kill" our enemies. I don't think they will literally kill a difficult, obstinate person, but by offering kindness in return for hatred, they will cease being our enemies.
The next bit of this quote I find worthy of reflection is the deliberate act of hugging of one who would never dream of embracing us. I find it humorous to imagine the look on an adversary's face if just out of the blue you were to hug them. Might be a wonderful act of grace received or result in a punch in the face. Again, as understood above, to hug a hater is to metaphorically stop looking at them as an opponent and begin seeing them as a friend.
The quote puts the emphasis, action, intent, on us. We are to change the way we view those folks in our lives. Every enemy is a friend in waiting.
"I defeat my enemy by making them my friend." Abraham Lincoln
blessings,
@BrianLoging (Twitter)
thewannabesaint.com
Posted in Mindfulness
Tags: #enemies, #friend, #friendship, #Hug, #hugger, #killthemwithkindness, #kindness, #life, #metaphorical, #quote, #wisdom