Blog Archives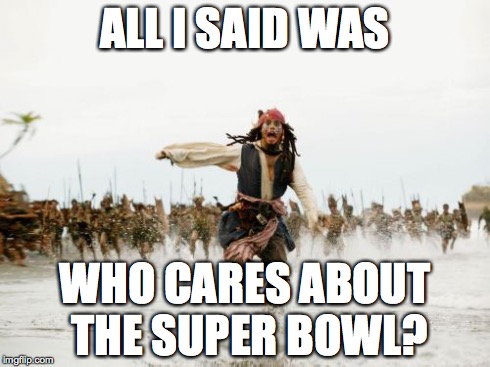 Who Cares?
This morning, in worship service, the pastor asked; "Who's rooting for the Philadelphia Eagles tonight? Who's going for the New England Patriots? Who doesn't care? Who didn't know the Superbowl was being played today?" There were hands and voices raised for each question.
Around 120 million people will watch the Superbowl tonight. That's over a third of the population of this country which is roughly 323 million. Amazing to me that we can watch a football game together but can't seem to unite over much else. It's also a surprise the 2/3 of America doesn't care about the game at all!
I will be rooting for the Philadelphia Eagles. I don't have anything against the Patriots they've just won it so many times I think it would be nice to give it to someone else for a change. The coverage for the big game started early this morning. The network broadcasting the Superbowl had a great interview with a Patriot's receiver, his wife, and children. It was a reminder that individual people, with unique stories, make up the teams.
It's a shame we don't remember that when we are attacking others for their political, cultural and religious opinions and beliefs. We cast a large net over those who don't think like us and label them; "bad" or "good" according to our own fallible judgments.
Maybe, if we could see the individual, listen to their story, discover we're all trying to make it the best we know how, we would realize when we fight all of us lose.
blessings,
@BrianLoging (Twitter)
thewannabesaint.com
Directions –
I was listening to a podcast earlier today and included was a story by the maker of the podcast about needing directions. He normally depended upon OnStar or a similar company for getting directions to a place he hadn't been before. However, when he pressed the button which should've connected him to the service he discovered his subscription had run out. After many phone calls, credit card numbers, VIN numbers and a host of other hurdles he still doesn't have service and doesn't know what to do! The person telling the story is a funny guy and told it in a humorous way but you could tell it was also aggravating to him to put this much time and energy into it and still have nothing to show for it.
Each of us has a voice in our heads which tells us how to best navigate the path of life. For some, the voice is positive and good with directions. However, for others, the voice is negative and gives us directions which are wrong and we end up frustrated and desperate. These voices come from
These voices come from a myriad of places; people and places we grew up, mental health issues, trauma in our young or adult lives, being with an individual or group of people who treat us poorly. The voice can tell us We're stupid, lead us to travel in circles never getting anywhere, or traumatize us to the point we can't move.
Understanding where our voices come from and being able to identify if they are positive or negative can go a long way in making sure we are able to live a life of purpose and vision. If we have voices which aren't good for us we can find others. Having a "subscription" to the right voices goes a long way in keeping us on the path toward health and wellness.
blessings,
@BrianLoging (Twitter)
thewannabesaint.com