Blog Archives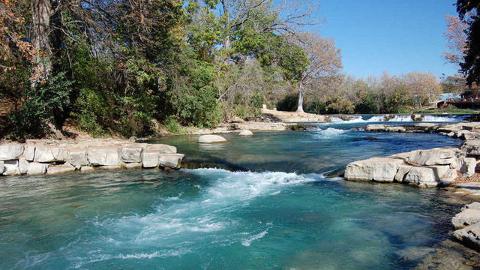 The River –
"Imagine yourself sitting on the bank of a river. The river is your stream of consciousness. Observe each of your thoughts coming along as if they're saying, "Think me, think me." Watch your feelings come by saying, "Feel me, feel me." Acknowledge that you're having the feeling or thought. Don't hate it, judge it, critique it, or move against it. Simply name it: "resentment toward so and so," "a thought about such and such." Then place it on a boat and let it go down the river. When another thought arises—as no doubt it will—welcome it and let it go, returning to your inner watch place on the bank of the river."
#ThomasKeating, "Open Mind, Open Heart: The Contemplative Dimension of the Gospel"
One of the greatest and most difficult realizations is the truth that we are not our thoughts. We are not our actions. We are not our egos. True, each of these can reveal things about us and to the world but we are not these things.
The problem is we've been taught the opposite most of our lives. The famous quote; "Reap a thought, a word, an action, then a destiny," seems right but our thoughts do not have to lead us to who we ultimately become. We can choose to go deeper, change paths, refuse to be captive to our thoughts by breaking free of them.
blessings,
@BrianLoging (Twitter)
thewannabesaint.com
Others –
I had a conversation last week with someone about a person I used to know who got on my every last nerve almost every day. We talked about how this person, who probably had good intentions, didn't have a way with people. In fact, there were many who repelled by his brusque personality and crude behavior. I relayed a story about a time he wanted to help but was unable because of who this person was on the inside and outside.
There were days I dreaded knowing I would encounter this man. It got to a point where this person was beginning to take up an inordinate amount of space in my mind. One day it dawned on me that I was spending too much time thinking about them and not focused on stillness of spirit. I threw on my tennis shoes, took a long walk, and hashed out in my mind all the things this person did and when I felt I had it all in a nice tight ball in the pit of my stomach, I took it out (metaphorically of course) and threw it away. I decided I would not give this one the power to make me crazy(er?) any longer. It was the freest and at ease, I had been in a long time.
We can't and will not get along with everyone. Personalities clash, goals and visions collide, certain people and us don't mix. This is okay as long as we treat them with respect, put some distance between us if at all possible, and never let them steal our inner peace.
blessings,
@BrianLoging (Twitter)
thewannbesaint.com
Thursday I wrote about a piece of reclaimed lumber I picked up and hoped to use. I knew it would require cutting away the decaying pieces to see if there were any useful parts.
This morning I grabbed my jigsaw and went to work searching, hoping to locate the good. Truth be known there wasn't much. Time, dampness, bugs and weather had stripped it of its strength, sturdiness and purpose. I was able to salvage a nice sized piece in the middle where nature and neglect hadn't yet destroyed.
We're similar to the wood. Our outer edges, the parts of us the world corrupts and compromises so quickly. The inner, the center, the part of us that's protected, shielded, and remains good. This is worth finding and worth saving.
Blessings,
@BrianLoging (Twitter)
http://www.thewannabesaint.com