Blog Archives
What's Inside –
This afternoon I burned old collected limbs which had fallen this past winter. Along with twigs and branches, there was a stack of large limbs that I cut up last year when part of a big tree was torn down by a thunderstorm. They had finally dried out enough where they would burn quickly. It didn't take long to have a large fire burning brightly and hot! After a while, there wasn't much left of the burn pile but red, orange, and blue scorching ashes. Before heading to the house I took a water bottle that was almost half filled with water and laid it on the hot embers. I watched as it shrunk, popped the top off and melted the places of the bottle where there wasn't any water. However, where there was water the plastic didn't melt. I watched as the water inside began to boil but the plastic wasn't consumed. Because of the water inside the plastic didn't melt outside. It was awesome to watch and wait to see how long it lasted. Finally, of course, the water evaporated and the plastic shriveled by the flames but it took longer than it should have given the power of the heat and flame.
It was a wonderful reminder that what's inside; our spirit, emotions, mentality, don't just protect what can't be seen but also protects the outside, what we can see; our health, bodies, and relationships.
blessings,
@BrianLoging (Twitter)
thewannabesaint.com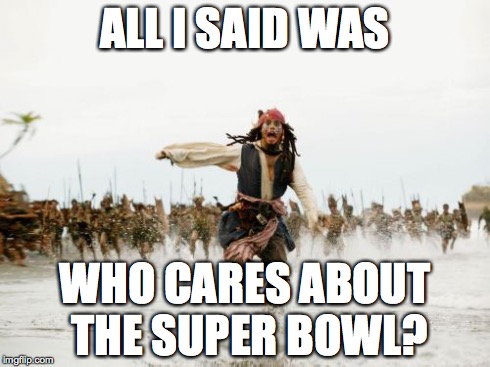 Who Cares?
This morning, in worship service, the pastor asked; "Who's rooting for the Philadelphia Eagles tonight? Who's going for the New England Patriots? Who doesn't care? Who didn't know the Superbowl was being played today?" There were hands and voices raised for each question.
Around 120 million people will watch the Superbowl tonight. That's over a third of the population of this country which is roughly 323 million. Amazing to me that we can watch a football game together but can't seem to unite over much else. It's also a surprise the 2/3 of America doesn't care about the game at all!
I will be rooting for the Philadelphia Eagles. I don't have anything against the Patriots they've just won it so many times I think it would be nice to give it to someone else for a change. The coverage for the big game started early this morning. The network broadcasting the Superbowl had a great interview with a Patriot's receiver, his wife, and children. It was a reminder that individual people, with unique stories, make up the teams.
It's a shame we don't remember that when we are attacking others for their political, cultural and religious opinions and beliefs. We cast a large net over those who don't think like us and label them; "bad" or "good" according to our own fallible judgments.
Maybe, if we could see the individual, listen to their story, discover we're all trying to make it the best we know how, we would realize when we fight all of us lose.
blessings,
@BrianLoging (Twitter)
thewannabesaint.com
Little Things –
They're everywhere! Well, maybe not everywhere, but we certainly have quite a few of them in and around the house. We've found them in the shower, the bedroom, the bed, the ceiling, on hair brushes and numerous other places. Ladybugs! As the weather turns cooler, they're turning into a real nuisance. Our first instinct is to swat them but they make quite the mess so instead, we will gently gather them up and show them to the door.
Ladybugs are such tiny things that could pose a big problem. In the same way, our lives can be filled with irritations that pose large challenges. A miscalculated statement to a coworker can become a problematic working relationship. A small lapse in attention while driving causes a large accident or at least scares and angers other drivers. A seemingly insignificant gesture can cause a heated exchange and escalate into a fight. What has the appearance of a minor choice can have enormous consequences.
Too often we think it's the big things which make or break our lives. Truthfully, more than likely it's the little things that decide who and what we are, will become and decide our destiny.
blessings,
@BrianLoging (Twitter)
thewannabesaint.com