Blog Archives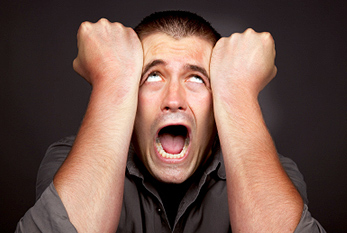 Frustration –
This morning I had an early appointment in Nashville to being a training. I put the address in my GPS app on my phone and off I went. It took me to the exact spot I'd entered into the phone but there was one problem, it was the wrong address. It took me a moment to realize my mistake until I literally got to the end of a dead-end road. Argh! I felt my frustration starting to grow. Instead of being 30 minutes early I was going to be late. I checked the address again, realized where I made my mistake, and set off in the right direction. Trying not to let my anxiety rise to a harmful level I turned on a three-lane road and stopped at a traffic light. I was in the far right lane, an SUV in the center lane, and a sports car in the left lane. I heard yelling and realized it was the SUV driver and the sports car driver having a road rage episode. I couldn't make out much of what they were saying and the words I could understand I don't dare repeat.
I sat there listening and watching the living embodiment of frustration out of control; testosterone, anger, and vitriol spewing out of both of them. It made me take stock of my mood and I realized it wasn't worth getting upset over my mistake and to let it go. I did, arrived at the training on time and am thankful for the lesson two men out of control could teach me.
blessings,
@BrianLoging (Twitter)
thewannabesaint.com
Pure –
One of the images I like to use with the men I work with is an illustration about a sponge soaked in water.
If I were to go to a store, find the kitchen aisle, and buy a pack of sponges, I could take them home to use as I see fit. If I opened the packaging, took out one sponge and if my kitchen sink was clean I could fill it up with water, take the sponge which had never been used, ball it up in my hand, plunge it in the water, let it go and it would soak up clean water. If I then retrieved another sponge from the packaging, took it outside, found a mud puddle, balled up the sponge in my hand, plunged it in the murky water, let it go, it would soak up dirty water. The sponge isn't the difference, it's the water.
It's similar to our lives. We are mostly products of where we came from, where we are, and where we are going. If our intentions are good and our hearts are pure most likely we will produce good results and our minds and spirits will be at peace. If, however, our hearts and intentions are selfish we will have no peace and wreak havoc on the lives of others.
blessings,
@BrianLoging (Twitter)
thewannabesaint.com
Hate –
Someone asked me today to define hate. I knew what they were asking. They were wanting to know if their dislike of another had gone far enough, grown enough to call it the "H" word. I described hate this way; "…an intense feeling of disdain, a lack of love and grace toward another, a set of blinders placed over one's eyes and soul to stop from seeing anything good about the person."
I'm not sure this is the best definition but it was one which resonated with my feelings of someone several years ago who had hurt me into the depths of my spirit. I couldn't please this person, who focused on what I did wrong and rarely noticed what I did right, complained, criticized, isolated me from others and used up everything they needed and then threw me away like an empty beer can, never looking back.
If I'd ever hated someone this would be the person, but as I thought about them today the intensity was no longer there. It takes a lot of energy, passion, time, to hate someone. Hate occupies a lot of space in your brain, emotions, spirit and life. You dwell on the other, fueled by your extreme contempt. Hatred consumes you and there comes a point when you have to make a choice; "Will I allow my pain and scorn to become who and what I am? Or, do I begin to let it go?"
It's not an easy decision but its the only option which leads to wholeness and peace.
blessings,
@BrianLoging (Twitter)
thewannabesaint.com