Blog Archives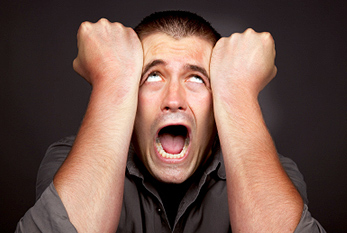 Frustration –
This morning I had an early appointment in Nashville to being a training. I put the address in my GPS app on my phone and off I went. It took me to the exact spot I'd entered into the phone but there was one problem, it was the wrong address. It took me a moment to realize my mistake until I literally got to the end of a dead-end road. Argh! I felt my frustration starting to grow. Instead of being 30 minutes early I was going to be late. I checked the address again, realized where I made my mistake, and set off in the right direction. Trying not to let my anxiety rise to a harmful level I turned on a three-lane road and stopped at a traffic light. I was in the far right lane, an SUV in the center lane, and a sports car in the left lane. I heard yelling and realized it was the SUV driver and the sports car driver having a road rage episode. I couldn't make out much of what they were saying and the words I could understand I don't dare repeat.
I sat there listening and watching the living embodiment of frustration out of control; testosterone, anger, and vitriol spewing out of both of them. It made me take stock of my mood and I realized it wasn't worth getting upset over my mistake and to let it go. I did, arrived at the training on time and am thankful for the lesson two men out of control could teach me.
blessings,
@BrianLoging (Twitter)
thewannabesaint.com
"The world today tends to be cynical about most things. We have a hard time believing in an enchanted world, a sacred or benevolent universe. Why would we if we see only at the surface level? Everywhere we turn, every time we watch the news, we see suffering. We have become skeptical about God's goodness, humanity's possibilities, and our planet's future. We can't help seeing what is not and are often unable to recognize or appreciate what is. I see this temptation in myself almost every day. I have to pray and wait for a second gaze, a deeper seeing. This is my daily bread." (https://cac.org/category/daily-meditations/) #RichardRohr
The quote above, from Richard Rohr, was part of my devotional reading this morning. I quickly took the phrase; "Second Gaze" to heart. I hadn't heard it before but it is a primary wisdom discipline. It is the understanding that if we only see with our physical sight we will miss the goodness, the light, the continuing blossoming of creation all around us. We will also miss the ways in which we can be a part of creation by loving, acts of kindness, a gentleness of spirit and humility to each person and everything we include in the circle of our lives.
Let us look around us today without the cynicism and negativity which often plagues our sight. May we behold and become a part of the ongoing miracle that is life in all its universal glory.
blessings,
@BrianLoging (Twitter)
thewannabesaint.com
Balanced and Level –
Last night the Mrs. and I continued working on an extension to the front porch. We are extending the roof about 15 feet and then hope to screen it in. The first step  was digging the holes which would hold the 4×4's. I did this Saturday two weeks ago. The next step was to place poles in a hole and fill it with cement. Neither Beth and I had ever dealt with cement before but knew enough to make sure the poles were level before pouring the concrete in the hole. We did and then, slowly, mixed the cement and the water. We were using quick-set concrete which only takes 30 minutes to get firm so being sure the pole was level and balanced was utmost important. We spent more time adjusting the poles than permanently setting them in place.
This morning, I checked on the poles and they are nice and secure. I also reflected upon the foundations of our lives. Every person has something they anchor their lives in; religion, science, relationships, intelligence or a mix of all of these. There are many foundations we can place our lives into but the real question is; "Are we balanced and level?" A lot of ideologies, philosophies and people we use to anchor our lives can leave us uneven and unstable. The key to peace within is to make sure what we fix our lives upon doesn't just secure us but gives stability and the evenness our spirits need.
blessings,
@BrianLoging (Twitter)
thewannabesaint.com