Blog Archives
Little Things –
While I was outside mowing today a big shadow went across me and when I looked up it was a Turkey Vulture. It hovered and landed on a high branch of the Oak Tree outside our front door. It wasn't long before it was joined by another who was surveying the area for anything dead and rotten. My focus went back to mowing until shadows appeared overhead again. It was the Turkey Vultures being chased away by a Mockingbird who has a nest in an adjoining tree. The Mockingbird was relentless, swooping up and then dive bombing both Turkey Vultures that had to be five times its size. I watched until the Turkey Vultures were out of sight and the Mockingbird perched high on a tree scanning the horizon for their return.
I found it comical and awesome that this small bird could put the two large ones to flight. Then I thought about the Turkey Vultures and their appetite for spoiled, rancid, deceased things. I also reflected on how in our lives there are times the Vultures are circling. We're tired, weak, worn out, done for and the scavengers surround us. Then, when it seems the end, someone says or does an act of warmth, love, empathy, and chases the Vultures away. It may be a small act but it has a great impact on us. We are renewed and able to keep going.
No act of kindness no matter how "small" is ever wasted.
blessings,
@BrianLoging (Twitter)
For more reflections, poems, and other writings; please visit: www.thewannabesaint.com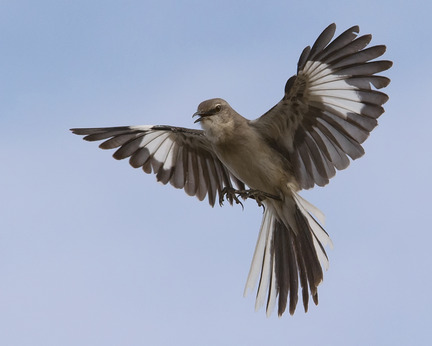 Important –
There is a family of Mockingbirds (https://www.google.com/search?q=mockingbird&oq=mockin&aqs=chrome.0.69i59j69i57j0l4.2524j0j7&sourceid=chrome&ie=UTF-8) in one of the large trees covering our driveway. The parents are extremely protective of their little ones.
Late this afternoon, after spending most of the day working on a project, I set fire to a pile of debris that contained several downed limbs from the past month's storms. I plopped down in a lawn chair watched the fire and then something interesting caught my eye. One of the Mockingbird parents was chasing a Turkey Vulture (https://www.google.com/search?q=mockingbird&oq=mockin&aqs=chrome.0.69i59j69i57j0l4.2524j0j7&sourceid=chrome&ie=UTF-8#q=turkey+vulture) who had come to close to its nest. It was dive bombing the much larger bird chasing it, harassing it, letting it know that it was a mistake to be in this area. There was something important and it was to be protected at all costs.
As I watched the Mockingbird triumphantly run the unwanted fiend off I thought about our lives. There are many things we claim as important, would declare meant a lot to us, but what would we risk our lives for? Die for? Fight against greater odds to protect and preserve?
The answer to this question reveals a good deal about us. Knowing what we're willing to never give up defending gives us insight into who we are and what means most to us.
blessings,
@BrianLoging (Twitter)
thewannabesaint.com