Blog Archives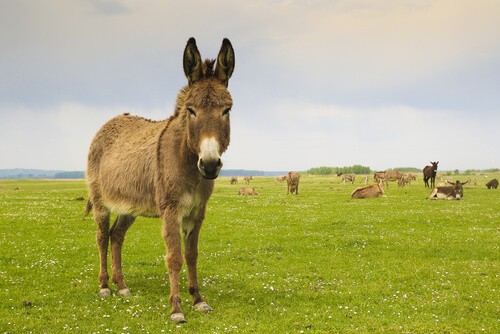 Stubbornness or Stillness?
This morning I had a meeting in Fayetteville, Tennessee. On my way, driving on country back roads I passed a Burro, standing by a fence. The other cows and critters in the pasture were nowhere near it but there it stood facing the morning sun. A few hours later I was returning home and passed the same Burro in almost the same spot as it was in earlier. It paid no attention to the automobiles coming and going or the other animals in the field.
As I watched the Burro I thought about its unwanted and unwarranted reputation of being resistant, refusing to obey, obstinately going its own way and doing its own thing. However, I did wonder; "Is he being stubborn or still?" I finally decided he was simply being still. He was facing the sun, he was on level ground, he wasn't distracted.
I reflected on my day and my mental state and thought; "I long to be like the Burro; enlightened, sure-footed and mindful."
blessings,
@BrianLoging (Twitter)
thewannabesaint.com
Remains –
On Saturday, while burning some debris in the yard, I went to grab a stick which was near the fire but not burning. My intention was to put it in a more advantageous position. However, as I grabbed the still cool end of the stick a single burning piece of ash fell right where I placed my thumb. I quickly dropped the stick and began shaking my whole hand the way someone does when they burn themselves. For the past several days I have had a reminder of the encounter, a blister on my right thumb.
The blister is a reminder of the randomness of life. A second earlier or later and I probably wouldn't have burned myself. In the same way, we often see the haphazard events of our lives. A moment before or after and there's no car accident or more or fewer injuries in it. A doctor's appointment a month or two earlier or later and a disease is detected or too far advanced to undergo treatments. A moment premature or delayed and we miss a relationship we cherish or disdain.
Whatever life brings our way there are remains that stay with us. Whether positive or negative who can tell? The most we can do is be aware, open to new experiences and cautiously protecting our souls.
blessings,
@BrianLoging (Twitter)
thewannabesaint.com
Found –
I had a friend who used to tell me she felt guilty for falling asleep when praying her nightly prayers. "God must be so disappointed in me! I can't even stay awake to say goodnight to him." I knew her heart was full of love and a desire to please God. I listened and then I asked her a question; "What do you think God would like more? To hear you say; 'Goodnight.' or for you to fall asleep in his arms?'" She smiled and understood that oftentimes we make our relationship with God more complicated than it should be.
The contemplative way tells us that when we are chopping wood, it is with God. When we eat a meal, it is with God. When sitting quietly, it is with God. All things we do can be with an awareness that God isn't impressed with our showmanship, rules and regulations, dogma and definitions. God longs for us to realize where we are; he is and our awareness of his presence, our understanding he desires to be with us is the meeting of every need we have now and forever.
blessings,
@BrianLoging (Twitter)
thewannabesaint.com