Blog Archives
Stalking –
"Waiting on a hurricane is like being stalked by a homicidal turtle!" I read this statement the other day and thought it was humorous and true. My wife and I have friends up and down the east coast and they are preparing for the worst and hoping for the best with Hurricane Florence looming as she's still deciding when and where to make landfall. The slow-moving storm has people on edge. There's something to be said for a challenge or difficulty that comes out of nowhere to cause chaos in life and then goes as fast as it came. It's hard but at least one doesn't have the agony of waiting.
I was talking with a friend last night about depression and anxiety and the way they steal the joy out of life. It's a dark storm that hovers filling you with dread as you prepare for the full brunt of the fury. You wait, you pray, you look for signs of the storm passing but it stays in one place and never gives you a true moment's rest. Your strength is sapped by the anxiety of the approaching darkness and when the storm finally hits its wave and winds batter and beat you into submission. Rest is elusive when something is stalking you, wearing you out with threats and anticipation, and finally, when it strikes, you're too weak to fight back.
Be kind to each other. You never know the storms that are brewing in each of us.
For more posts, reflections, and other writings, please visit: http://www.thewannabesaint.com
blessings,
@BrianLoging (Twitter)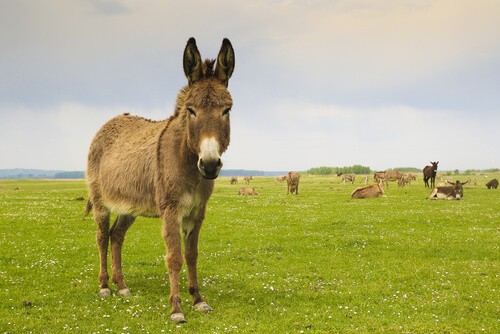 Stubbornness or Stillness?
This morning I had a meeting in Fayetteville, Tennessee. On my way, driving on country back roads I passed a Burro, standing by a fence. The other cows and critters in the pasture were nowhere near it but there it stood facing the morning sun. A few hours later I was returning home and passed the same Burro in almost the same spot as it was in earlier. It paid no attention to the automobiles coming and going or the other animals in the field.
As I watched the Burro I thought about its unwanted and unwarranted reputation of being resistant, refusing to obey, obstinately going its own way and doing its own thing. However, I did wonder; "Is he being stubborn or still?" I finally decided he was simply being still. He was facing the sun, he was on level ground, he wasn't distracted.
I reflected on my day and my mental state and thought; "I long to be like the Burro; enlightened, sure-footed and mindful."
blessings,
@BrianLoging (Twitter)
thewannabesaint.com