Blog Archives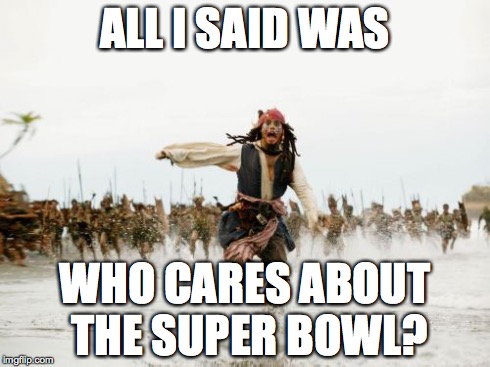 Who Cares?
This morning, in worship service, the pastor asked; "Who's rooting for the Philadelphia Eagles tonight? Who's going for the New England Patriots? Who doesn't care? Who didn't know the Superbowl was being played today?" There were hands and voices raised for each question.
Around 120 million people will watch the Superbowl tonight. That's over a third of the population of this country which is roughly 323 million. Amazing to me that we can watch a football game together but can't seem to unite over much else. It's also a surprise the 2/3 of America doesn't care about the game at all!
I will be rooting for the Philadelphia Eagles. I don't have anything against the Patriots they've just won it so many times I think it would be nice to give it to someone else for a change. The coverage for the big game started early this morning. The network broadcasting the Superbowl had a great interview with a Patriot's receiver, his wife, and children. It was a reminder that individual people, with unique stories, make up the teams.
It's a shame we don't remember that when we are attacking others for their political, cultural and religious opinions and beliefs. We cast a large net over those who don't think like us and label them; "bad" or "good" according to our own fallible judgments.
Maybe, if we could see the individual, listen to their story, discover we're all trying to make it the best we know how, we would realize when we fight all of us lose.
blessings,
@BrianLoging (Twitter)
thewannabesaint.com
Outside –
A few weeks ago I was working outside in my overalls. A friend stopped by and was shocked I looked so "country." "What are you wearing?" was the first thing he said to me. I was taken aback by how he couldn't get over my overalls. "I actually have a couple of pairs and wear them to keep from getting too dirty, they have multiple pockets to put things in, and look great with my boots!" I thought he might faint. He's known me primarily in work and play clothes, never in yard work attire. It was as if a pair of overalls changed his view of me.
Yesterday, I almost threw myself into a political/theological argument a friend was having on Facebook. I thought better of it and remembered that social media is not the place to have deep conversations. As I read the thread of the discussion the primary antagonist held several views I disagree with and supported his arguments with not so pleasant words of attacks and insults. I finally stopped reading the conversation because my view of this man was becoming negative, judgemental and I didn't even know him!
His beliefs and convictions are not mine but too often, like my friend when seeing me in overalls, differing points of view cause us to see people in certain ways. We use political, theological and a host of other convictions as litmus tests to place people in certain categories, judge them as unworthy, unintellectual, strange, sinful, or label them in other insulting ways.
People are more than their outward appearances and opinions. When we allow our view of them to be shaped by what we see or hear on the outside we are actually revealing more about ourselves than them.
blessings,
@BrianLoging (Twitter)
thewannabesaint.com
My Kind of Reality –
I like the truth behind this quote from Bill Waterson. Many realities are forced upon us by different medias, people, cultures, and environments. We are told what to think, who to trust, where we're supposed to go and how we are to get there.
I enjoy social media for the most part. Catching up and keeping up with people whom I care for and love is one of the biggest positives of being connected. However, one of the worst bits of social media is the relentless posts on political preferences, judgements and snarky remarks against folks who have done one thing or another to upset the poster. There are litmus tests such as abortion, gay rights, presidential candidates, celebrities, and a host of other subjects that decide for us whether or not a person is worth our time, and perhaps even our love. I am consistently appalled at the vitriol people say to one another online, things, I hope, they'd never say face to face.
It seems we're surrounded by litmus tests such as abortion, gay rights, presidential candidates, celebrities, and a host of other subjects that decide whether we ae worth a person's attention or their love. If we fail, we're not worthy.
It wears me out! This isn't the reality I choose to live in. I want to be in a place where people can believe and express different opinions and still be friends. I desire a world more nuanced where one won't decide whether a person is good or bad by whether they agree or disagree on a subject the other is passionate about. I long to see people converse instead of scream, listen and not talk incessantly, have an open heart and spirit to the one who is different, offensive and human, just like us.
This is the reality I choose and pray others will join me.
blessings,
@BrianLoging
thewannabesaint.com