Blog Archives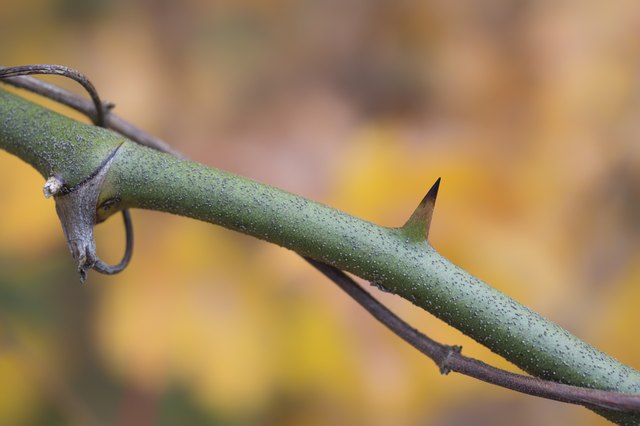 Thorny Situation –
Today working in a friend's yard I came across several thick, thorny, vines. They were growing up from the ground and had worked their ways into several trees wrapping themselves around numerous limbs. I found the source where they started and sawed it as close to the ground as possible. Then, with a pair of thick gloves, I grabbed and pulled. I was able to get almost ten feet of the vine dragged down before the vines drew a bunch of limbs together and wouldn't go any further. I asked another friend who was helping to grab a saw and cut the vines as high as he could. He did and the remaining vines popped back up into the trees. Eventually, since they have no connection to the ground, they will rot and die. At the source, a vigilant eye will be needed to make sure it doesn't start growing again.
Wisdom teaches us there are thorny issues in our lives. They intertwine themselves into many parts of our lives and begin to choke us. They're sharp and we're sensitive to the impact they have on us and others. To rid ourselves of them we have to find the source and cut it out of our lives. We also need to be untangled from the hold they have on us. Thorny issues are not easy to get rid of. It will take perseverance and patience until they are fully gone and a vigilant eye to make sure they don't return.
blessings,
BrianLoging (Twitter)
For more posts, reflection and other writings, please visit: http://www.thewannabesaint.com
Burdens –
The fellowship hall which belongs to one of the two churches next to our house had a new roof put on yesterday. As I was doing yard work they were working under the hot sun with no hope of shade. A truck pulled into the parking lot full of shingles and the driver began unloading. After he finished another man grabbed a bundle of shingles, positioned them on his shoulders and carried them up the ladder to the workers on the roof.
Watching this man and the way he handled the shingles and the ladder you might think he would be broad and muscular but actually, he was smallish in size. However, the way expert way he handled the shingles let you know he'd been doing this type of work for a while.
Impressed with his agility and strength I reflected on the burdens that people carry. Mother Teresa once famously said; "I know God says; 'He wouldn't give us more than we could handle.' I just wish he didn't trust me so much."
Size, age, education, talent, and all the accolades the world holds dear doesn't necessarily equal great faith or perseverance. It's the elderly woman we pass in the grocery store, the young man with the earring in his nose,  the middle age woman with a tear in her eye, the man holding the door open for strangers, who carry burdens too heavy for most of us.
They are able to do this not because they are stronger but have been doing it longer.
blessings,
@BrianLoging (Twitter)
thewannabesaint.com
Growth –
Whew! Spent most of the day framing in the porch. We are almost ready for the screening and the end is in sight. There's a good tired feeling after a day's worth of hard work and feeling as if you've accomplished a lot.
To finish out the day I watered our plants and flowers. It's been a couple of weeks since we've had any rain and they were quite thirsty. In the front yard, we have four Blue Spruces. We bought them at the same time and they looked the same; small and a bluish-green. However, today, when I was watering them I noticed they all looked different. They were planted at the same time, are basically in the same place. They receive water, mulch, pruning at the same time and yet they are growing in disparate ways. One is taller, one is "fatter", one has two stems on top, and one looks bigger than all the others. Even though they've received the same amount of attention, sunshine, rain, hot and cool days, the are not the same.
Wisdom teaches us that people are similar to the Blue Spruces. They grow at different rates, in different ways, at different times. Often we forget how unique each of us are in how we mature emotionally, mentally and spiritually. We are tempted to judge negatively those who aren't keeping up with others only later to perhaps discover an unexpected growth spurt from a "late bloomer" has surpassed them all. Patience. Acceptance. Perseverance. These are all needed attributes when measuring the growth and maturation of those around us.
"Never judge a person's progress no matter how slow." -Plato
blessings,
@BrianLoging (Twitter)
thewannabesaint.com