Blog Archives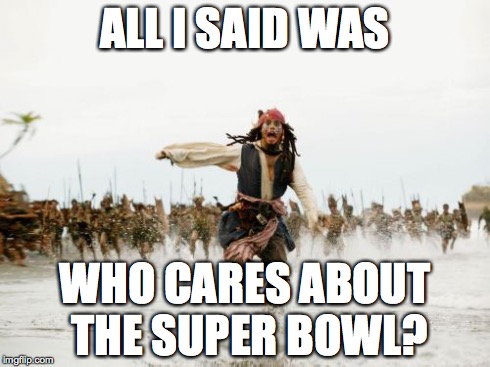 Who Cares?
This morning, in worship service, the pastor asked; "Who's rooting for the Philadelphia Eagles tonight? Who's going for the New England Patriots? Who doesn't care? Who didn't know the Superbowl was being played today?" There were hands and voices raised for each question.
Around 120 million people will watch the Superbowl tonight. That's over a third of the population of this country which is roughly 323 million. Amazing to me that we can watch a football game together but can't seem to unite over much else. It's also a surprise the 2/3 of America doesn't care about the game at all!
I will be rooting for the Philadelphia Eagles. I don't have anything against the Patriots they've just won it so many times I think it would be nice to give it to someone else for a change. The coverage for the big game started early this morning. The network broadcasting the Superbowl had a great interview with a Patriot's receiver, his wife, and children. It was a reminder that individual people, with unique stories, make up the teams.
It's a shame we don't remember that when we are attacking others for their political, cultural and religious opinions and beliefs. We cast a large net over those who don't think like us and label them; "bad" or "good" according to our own fallible judgments.
Maybe, if we could see the individual, listen to their story, discover we're all trying to make it the best we know how, we would realize when we fight all of us lose.
blessings,
@BrianLoging (Twitter)
thewannabesaint.com
Every year as another District Assembly rolls around I think about Mary Brown. There are many things that make her special but one of the most remarkable is that she likes District Assemblies. As an Ordained Elder in the church of the Nazarene and currently serving on the Philadelphia district I am required to attend our local District Assembly and have yet to come up with a viable excuse, that my Senior Pastor would accept, to allow me miss this yearly function. However, my grandmother, volunteers to attend her local assembly on the South Carolina district and has done so for as long as I can remember.. This amazes me! During our assembly this year, which took place the last full week of April, I found myself talking about prayer with some of my fellow delegates. We were comparing and contrasting the many styles of conversation that God's children have with their Heavenly Father. As the discussion progressed I told them how my grandmother falls asleep many nights on the floor of her living room during her nightly prayers. Not too long ago she had lamented to me that she felt guilty about dozing off during this time and I assured her God had no problem with it, for what better way to end the day than falling asleep in her Father's arms.
Of all the traits that make my Nana special her desire to live a life pleasing to her Father is the one I treasure most. I have heard her often described as a saint and have seen her blush when others refer to her that way in her presence. Sometimes a "saint's" journey can give the impression that they have found a way, that only few know, a way of perfection and peace. That's not her path. It has not been perfect. Doubt, fears, confusion and frustration sometime still stalk from their hiding places. Hills, valleys, darkness and difficult stretches almost seem too much and still she travels on wanting to please her Father and to one day see His face. She will be the first to tell you she isn't a saint, an angel, that perfection is still on the horizon and everlasting peace a destination not yet reached. She would also say there is no saintliness without scars, no halo without hurt, perfection is crucified love and peace is known only after loneliness, fear, doubt and confusion are intimate companions.
Mary Brown is special, not because she's arrived, but because she still journeys on. Thomas Merton wrote; "I don't always know how to please You my Lord, but let my wanting to please You, please You." May this continue to be her and our lifelong prayer.