Blog Archives
A Picture is Worth…
A picture is worth a thousand words unless you are the kids who survived the Stoneman Douglas High School mass shooting in Florida, several weeks ago. This past weekend there were gatherings in cities around the world. It was called; "The March for Our Lives." Since this protest event, David Hogg and Emma Gonzalez have become targets, again. There are news articles, memes, pictures and opinion pieces written that would make adults question their sanity, worth and the innate goodness of humanity.
My heart is broken and my spirit crushed as I listen, read and watch adults attack these children with vitriol. They are being bullied, lied about, crushed by those whose opinions differ from theirs. These young people have survived what will probably be the most traumatic event in their life. They are processing their grief, the loss of their friends and their innocence. They are trying to take a stand, find their footing after an event and in a debate bigger than them. They are exercising control by speaking out, marching, becoming an advocate against an act of violence that ripped their lives apart. Yet, while they attempt to put their lives back together, people online, on the radio, on television are tearing them down and apart, again.
Are these kids being used by persons and corporations with agendas? Maybe. Perhaps they are also smart and resilient enough to know what they want and believe. Have they said and done everything perfectly? Of course not. Who has? You don't have to agree with them to see they are still in pain. You don't have to march with them to stand by their side. You can disagree without abuse. We should be better than that. These kids deserve better.
blessings,
@BrianLoging (Twitter)
thewannabesaint.com
Sifted –
We live in a world where our thoughts are too easily written down and dispersed on an unexpecting and often unwanting public. Facebook, Twitter, Instagram and more give us the options of pairing our words with pictures, emojis, aesthetic backgrounds as if that makes them seem more important.  What we are missing is a filter which asks; "Does this post hurt you or others?" If the answer is; "Yes" then we don't put it out there for the whole world to see.
The question; "Does this hurt you or others?" should also apply to what we say in the real world to each other. I've heard people say things to another human being which should simply never be said. The problem is "No Filter." We have latched on to the idea that if we think it, it is worth expressing, and we don't consider the consequences of the words we speak.
Words, perhaps more than any other weapon, has the power to create or destroy life. May we use them carefully.
blessings,
@BrianLoging (Twitter)
thewannabesaint.com
Posted in Life
Tags: #aesthetic, #apply, #backgrounds, #carefully, #consequences, #consider, #create, #destroy, #dispersed, #emojis, #expressing, #filter, #heard, #humanbeing, #hurt, #idea, #important, #latched, #life, #missing, #never, #NoFilter, #options, #pairing, #pictures, #post, #power, #problem, #public. #Facebook, #realworld, #simply, #speak, #Twitter, #unexpecting, #unwanting, #weapon, #Written, Instagram, People, Thoughts, World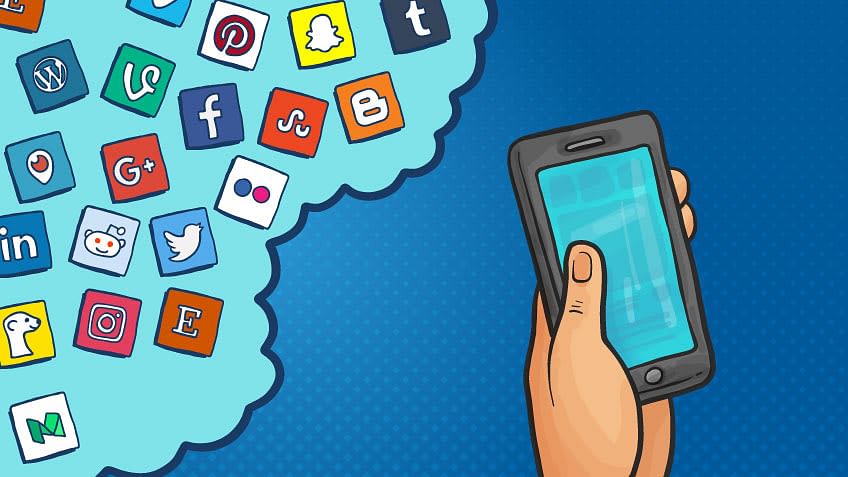 Comparisons –
Someone told me today about a friend they have who is unhappy. This is the opposite of her usual demeanor. By most accounts, she's always been a go lucky, chipper, satisfied, joyful person. However, in the last several months who mood has changed and the sparkle in her eye has dulled considerably. The person sharing this with me said her friend's unhappiness with life has increased along with her social media consumption. She's said; "When I read my friends' posts on Facebook, look at their pictures on Instagram, see their interactions with countless other folks on Twitter, my life seems rather dull, empty, lacking."
This isn't the first time I've heard someone relay this type of story to me. Social media can be a wonderful tool and a good way to share select moments of our lives with our friends and family but we must remember the words; SELECT MOMENTS. Those inspirational posts on Facebook often come from a book or web page of quotes. The beautiful pictures on Instagram don't show the before and after of getting ready to take the photo and recovering from it. Twitter can be an okay place to exchange ideas but more often its people shouting their opinions at each other.
Comparisons can be dangerous, especially on social media.  Most of what we see on these platforms are illusions. They rarely give us a real glimpse of who a person is and what their life is truly like. We have to be careful comparing our life, which we know intimately, with another's snapshots of theirs. Our life may seem bland, our thoughts benign, our family and friendships boring, but that's okay. Most of the time, if we were to see what a Facebook friend's life is like, or the reality behind a Twitter account, or the other moments when everyone isn't smiling on Instagram we might decide our life is good and worthy of our thanks.
blessings,
@BrianLoging (Twitter)
thewannabesaint.com
Posted in Life
Tags: # moments, #after, #before, #benign, #bland, #boring, #careful, #comparing, #Comparisons, #dangerous, #decide, #dull, #empty, #exchange, #Facebook, #friends, #glimpse, #ideas, #illusions, #inspirational, #interactions, #intimately, #lacking, #life, #opinions, #pictures, #platforms, #rarely, #recovering, #select, #share, #shouting, #snapshots, #socialmedia, #thanks, #tool, #Twitter, #wonderful, #worthy,  Family, Instagram, quotes