Blog Archives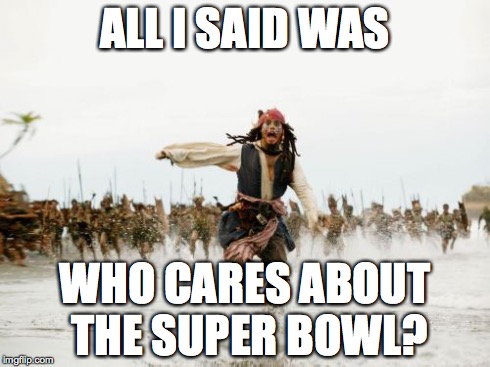 Who Cares?
This morning, in worship service, the pastor asked; "Who's rooting for the Philadelphia Eagles tonight? Who's going for the New England Patriots? Who doesn't care? Who didn't know the Superbowl was being played today?" There were hands and voices raised for each question.
Around 120 million people will watch the Superbowl tonight. That's over a third of the population of this country which is roughly 323 million. Amazing to me that we can watch a football game together but can't seem to unite over much else. It's also a surprise the 2/3 of America doesn't care about the game at all!
I will be rooting for the Philadelphia Eagles. I don't have anything against the Patriots they've just won it so many times I think it would be nice to give it to someone else for a change. The coverage for the big game started early this morning. The network broadcasting the Superbowl had a great interview with a Patriot's receiver, his wife, and children. It was a reminder that individual people, with unique stories, make up the teams.
It's a shame we don't remember that when we are attacking others for their political, cultural and religious opinions and beliefs. We cast a large net over those who don't think like us and label them; "bad" or "good" according to our own fallible judgments.
Maybe, if we could see the individual, listen to their story, discover we're all trying to make it the best we know how, we would realize when we fight all of us lose.
blessings,
@BrianLoging (Twitter)
thewannabesaint.com
Nothing –
Today has been a quiet day, save a few thunderclouds which have threatened rain. The word "Sabbath" is defined as; "a weekly religious observance by Jews and Christians. A day of abstinence from work" and since I've done nothing today I think I've met the requirement of this command.
It's amazing how many days we work. I'm not referring to just our "normal" jobs but also the additional duties we take on, extra curricula activities we participate in, chores, responsibilities and the mundane tasks required of everyday living.
To have a day in which nothing is attempted let alone accomplished is a rare joy in our busy world. We can almost feel guilty for not breaking one of the ten commandments, for following the (religious) law. However, this is what we are supposed to do; rest, sleep, breathe, receive the blessing of the Sabbath and be thankful.
grace and peace,
@BrianLoging (Twitter)
thewannabesaint.com
Here's an interesting info-pic about different traditions celebrated by varying cultures around the world at Christmas…
Traditions can be wonderful but they can also bring the heaviness of the past and a longing to live there. 
I recently finished my Christmas day calls & texts to family and friends. Some are doing well and others have had a rough 2013. Family members and friends separated by varying circumstances including death, traditions once highly valued now gone, have a way of making this day dreadful instead of joyful. I spoke to someone this morning who began to cry while saying she would "be alright in a little bit." I told her not to make this day anything other than what it was, a hard one, and if the mourning of what has been is needed to get to what is and what will be, then embrace this season of change. 
Traditions are wonderful and should be cherished but when they change or cease, as all things do, maybe the gifts of acceptance and letting go is what we need to unwrap this year.
blessings of peace, bdl