Blog Archives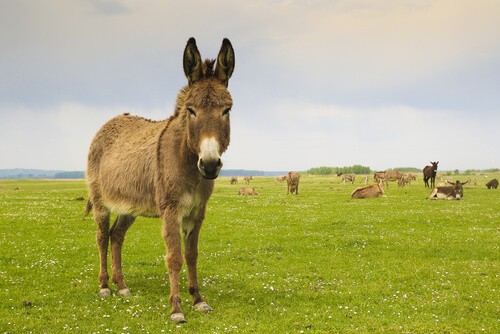 Stubbornness or Stillness?
This morning I had a meeting in Fayetteville, Tennessee. On my way, driving on country back roads I passed a Burro, standing by a fence. The other cows and critters in the pasture were nowhere near it but there it stood facing the morning sun. A few hours later I was returning home and passed the same Burro in almost the same spot as it was in earlier. It paid no attention to the automobiles coming and going or the other animals in the field.
As I watched the Burro I thought about its unwanted and unwarranted reputation of being resistant, refusing to obey, obstinately going its own way and doing its own thing. However, I did wonder; "Is he being stubborn or still?" I finally decided he was simply being still. He was facing the sun, he was on level ground, he wasn't distracted.
I reflected on my day and my mental state and thought; "I long to be like the Burro; enlightened, sure-footed and mindful."
blessings,
@BrianLoging (Twitter)
thewannabesaint.com
Intimacy –
This afternoon I stopped by a store to run in and grab a few items. When I parked there was a man sitting in his car and as I pulled into a spot he was staring at me. I gave him a head nod and didn't think much of it As I gathered my things and exited the truck I looked again and he was no longer visible because his, I am assuming, girlfriend was bending sideways across the center console "appreciating him." She was kissing him and whatever else because I averted my eyes not wanting to see anything that would burn an image in my brain! I went into the store came out a few minutes later and was hoping the car had gone but alas it was still there. Most of the windows were fogged up except the driver's window and the driver was smoking a cigarette. I looked at my keys, hopped in the truck and drove away, quickly.
Intimacy is one of the greatest emotions and connections humans can share. Lust, on the other hand, is hormonal, selfish, addicting, and satisfied in ways which can hurt others. Our world is filled with lust. Lust for power, fame, money, reputation, knowledge can all be subjects of our lust if they are used only for our selfish purposes. True intimacy is also powerful but the opposite of lust. Lasting intimacy is giving ourselves to another. We have intimacy when we decide to put the other one first, serve the other. In a world where lust burns quickly, brightly, we need those who would rather do a slow burn which lasts a lifetime.
blessings,
@BrianLoging (Twitter)
thewannabesaint.com
Might Be –
One of the greatest senses we can develop is that of self-awareness. It's the discipline of being able to look into an existential mirror and see who we really are, no delusion or illusion. We can see ourselves, the good and the not so good, discover what we do well and what needs to be improved.
Most live in a constant state of denial of who they are and/or who they should be. They allow others, culture, reputation, ego, the false self to define them. If we are not self-aware the world has a limitless number of fake identities to slap on us. If we aren't careful we can settle for these alter-egos and never take off the masks too many wear for a lifetime.
Letting go of who we've always thought we should be isn't easy. There is pain involved on the journey of self-discovery. However, if we dare, the challenges and difficulties can be overcome, the illusions and delusions shattered, and we become what most dare not hope for; at peace.
blessings,
@BrianLoging (Twitter)
thewannabesaint.com