Blog Archives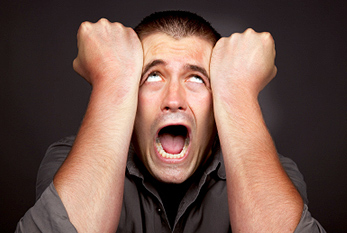 Frustration –
This morning I had an early appointment in Nashville to being a training. I put the address in my GPS app on my phone and off I went. It took me to the exact spot I'd entered into the phone but there was one problem, it was the wrong address. It took me a moment to realize my mistake until I literally got to the end of a dead-end road. Argh! I felt my frustration starting to grow. Instead of being 30 minutes early I was going to be late. I checked the address again, realized where I made my mistake, and set off in the right direction. Trying not to let my anxiety rise to a harmful level I turned on a three-lane road and stopped at a traffic light. I was in the far right lane, an SUV in the center lane, and a sports car in the left lane. I heard yelling and realized it was the SUV driver and the sports car driver having a road rage episode. I couldn't make out much of what they were saying and the words I could understand I don't dare repeat.
I sat there listening and watching the living embodiment of frustration out of control; testosterone, anger, and vitriol spewing out of both of them. It made me take stock of my mood and I realized it wasn't worth getting upset over my mistake and to let it go. I did, arrived at the training on time and am thankful for the lesson two men out of control could teach me.
blessings,
@BrianLoging (Twitter)
thewannabesaint.com
Steps –
I was talking with someone this week about choices and the impact every one of them has upon our lives. "Each step,' I said 'is a step down the path of your life. At the end of the journey is your death. When you're lying in the box what will people say you did? Who will people say you were?"
It is a difficult concept to wrap our heads around sometimes that we are mostly a direct result of our own decisions. There are few things which happen to us which are not a consequence of our choosing. This is not to dismiss diseases, abuses, crimes, and other challenges which can impact our lives without us bearing responsibility but most of what we do and who we are is a direct result of the life we choose to live, the path we choose to walk, the people we decide to be.
One good choice, one step in the right direction, can be a powerful act which reverberates to every corner of our lives and to the deepest part of our souls. Each day, what we think about, what we do, who we spend time with, what we read or don't read, watch or don't watch, learn or not, are steps toward or away from the person we need to be to make the world and those directly impacted by our lives better.
blessings,
@BrianLoging (Twitter)
thewannabesaint.com
Stuck –
Today I was stuck somewhere I didn't want to be, doing something I didn't want to do for over 6-hours! A quarter of my day was spent enduring, trying to stay calm, doing much breathing exercises and practicing stillness.
This wasn't my plan for this day. I had it all laid out and then boom! From out of nowhere, life took a hard turn and I had no choice but to follow. There are moments and seasons in life when you're given one of two or more choices. This wasn't available to me today. I walked a 6-hour path of misery, by sitting in an uncomfortable room and an uncomfortable chair, and thankfully came out on the other side.
Life is nothing if not unpredictable. Especially when you have everything scheduled and coordinated. It's interesting how life's "surprises" continue to shock. Perhaps one day they won't surprise us anymore. Maybe we'll learn the lesson of living in the moment, no expectations and accept everything that comes with an open hand and spirit.
blessings,
@BrianLoging (Twitter)
thewannabesaint.com