Blog Archives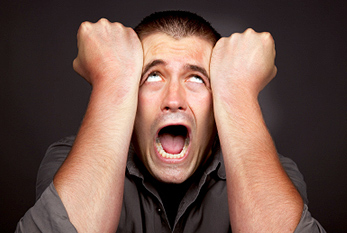 Frustration –
This morning I had an early appointment in Nashville to being a training. I put the address in my GPS app on my phone and off I went. It took me to the exact spot I'd entered into the phone but there was one problem, it was the wrong address. It took me a moment to realize my mistake until I literally got to the end of a dead-end road. Argh! I felt my frustration starting to grow. Instead of being 30 minutes early I was going to be late. I checked the address again, realized where I made my mistake, and set off in the right direction. Trying not to let my anxiety rise to a harmful level I turned on a three-lane road and stopped at a traffic light. I was in the far right lane, an SUV in the center lane, and a sports car in the left lane. I heard yelling and realized it was the SUV driver and the sports car driver having a road rage episode. I couldn't make out much of what they were saying and the words I could understand I don't dare repeat.
I sat there listening and watching the living embodiment of frustration out of control; testosterone, anger, and vitriol spewing out of both of them. It made me take stock of my mood and I realized it wasn't worth getting upset over my mistake and to let it go. I did, arrived at the training on time and am thankful for the lesson two men out of control could teach me.
blessings,
@BrianLoging (Twitter)
thewannabesaint.com
Brightly –
The sun was shining brightly today as if it had been hidden by clouds and couldn't take it anymore. Bursting through, nothing holding it back, it lit up the blue sky. Now, after showing off, the sun is setting and only remnants of light remain of its beauty.
I have a friend going through a difficult time, battling a disease that will sooner or later kill him. He's doing everything he can but our bodies are not made to last forever nor beat every enemy we face. I talked with him today on the phone and his voice sounded stronger than in days past. It was good to hear and I laughed as he told me one of his jokes. The last several weeks have been tough, watching him struggle, rise to meet one challenge only to be met by a new and a more difficult obstacle. No one can keep going no matter how much strength they possess.
Today for a moment he shone brightly and I will keep that memory with me as he moves forward.
blessings,
@BrianLoging (Twitter)
thewannabesaint.com
Let Go –
The quote in the picture is one of my favorite wisdom proverbs. Letting go of things is as important, and as difficult, as learning and gaining knowledge and wisdom. What I have learned over the years, however, is things have a way of coming back that you are gone and forgotten.
Earlier this week I was revisited by thoughts of someone who hurt me long ago. I have dealt with these thoughts before and have let go of them. These persistent thoughts though, like toilet paper stuck to the bottom of your shoe, have a way of following me wherever I go.
I recognize them for what they are; ruminating. "Ruminating is simply repetitively going over a thought or a problem without completion. When people are depressed, the themes of rumination are typically about being inadequate or worthless. The repetition and the feelings of inadequacy raise anxiety and anxiety interferes with solving the problem." Psychology Today (https://www.google.com/url?sa=t&rct=j&q=&esrc=s&source=web&cd=3&cad=rja&uact=8&ved=0ahUKEwilur2Iy6rWAhXFWSYKHYxNA4QQFgg5MAI&url=https%3A%2F%2Fwww.psychologytoday.com%2Fblog%2Fdepression-management-techniques%2F201604%2Frumination-problem-in-anxiety-and-depression&usg=AFQjCNFQ4v7E8XRgsUr7_j6GKQIIws-W_A) Rumination is a sign of or leading to a rise in my anxiety and a rise in anxiety leads to a depressive episode. I know this and yet the thoughts, at times, keep coming.
Usually, after a bit, with the thoughts tumbling over in my head, and the re-realization there is no satisfactory conclusion I let go again. I used to hope they would be gone for good but it is not meant to be. So I try to let them be an exercise in wisdom discipline and pray I get stronger each time I release the weight.
blessings,
@BrianLoging (Twitter)
thewannabesaint.com