Blog Archives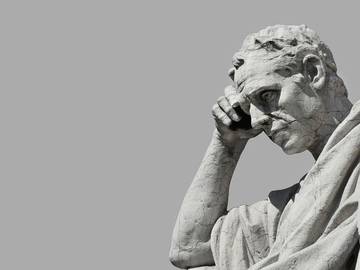 To Think –
I am currently teaching a men's class on Wednesday evenings in a city that's an hour away from home. This means on Wednesday afternoon and evening I have a bit of time on my hands. I spent most of it yesterday talking with fathers on the phone. A couple of hours to myself gives me time to think about my day, week, schedule and the materials I will be teaching and how the class went on the way back.
Thinking is a balancing act for someone like me with a Severe Anxiety Disorder. If I'm not careful thinking can turn to rumination and going over and over a situation, interaction, occasion in my mind. I described it one time to my therapist; "My over-thinking is like bubblegum. You chew on it and for a while, you get something tasty. Soon, however, all the flavor is gone and you're chewing a piece of wet rubber." I try to be aware of my thoughts and if I'm fixating on a particular subject. When I catch myself I turn on the radio, a podcast or music.
Wisdom tells us; "We cannot stop thoughts from entering the door of our minds
but we do not have to serve them tea."
blessings,
@BrianLoging (Twitter)
thewannabesaint.com
Enough? –
Today is my birthday. I celebrated by getting up early this morning and going to therapy. The specialist I see is about 45 minutes from our house heading into Nashville. Depending on the amount of traffic it can take twice as long on a bad day. My gas gauge was sitting on about a quarter of a tank when I pulled out of the driveway and, running a little late, I didn't stop to get gas. I figured it was enough to at least get me there. Then about half way through my trip on a stretch of interstate, I spied brake lights and all of a sudden I was at a full stop and stuck in traffic. That's when the panic set in. "How long will I sit here? Will I have enough gas to make it when moving slowly or not at all?" It ended up fine and I made it to my appointment on time and put some gas in the truck before heading home.
Driving home I reflected on my therapy session and some of the issues addressed. Being my birthday I also thought about another year gone. As a person with a Major Depressive Disorder and a Severe Anxiety Disorder birthdays is a mixed bag. There is the blessing of getting through another year with the realization you have another year to get through. I am thankful for specialists and therapists, friends who encourage and understand, a family who does their best to stay beside me as I battle a disease that is incredibly difficult to understand and a wife who loves me, unconditionally and without whom I'd be lost deep in the darkest of places.
One more year on the path and enough fuel to keep going. On this birthday, I couldn't ask for more.
blessings,
@BrianLoging (Twitter)
thewannabesaint.com
Rest and Suffering –
Yesterday afternoon, on my way back from an out-of-town meeting, I passed a delivery truck. Its hood was up, flashers on, obviously broke down and not going anywhere. What caught my attention was the driver. He was laying down in a shady spot, one arm for a pillow and the other holding a cellphone and talking. He wasn't nervously pacing, angrily kicking tires, yelling into the phone. If he could've fixed the truck I am sure he would have. If there was a way to deliver his goods he would've completed his goals for the day. Instead, he was resting because there wasn't anything else to do but wait.
I struggle following this man's example. I like rhythm, order, control. I don't like surprises, detours, or delays. There is certainly a part of that which comes from having a Severe Anxiety Disorder. Mapping out the day so it can be more easily managed is part of my therapy. However, I also believe it's very human to want control, to get things done in a timely manner, to feel like our lives are not always a random gathering of happenstance.
Wisdom teaches us that the distance between acceptance of what happens every moment and our expectation of what should happen every moment is where suffering is found. Knowing how to rest in the unplanned, perhaps even unwanted, experiences of life is one of the toughest and most valuable lessons we can learn.
blessings,
@BrianLoging (Twitter)
thewannabesaint.com