Blog Archives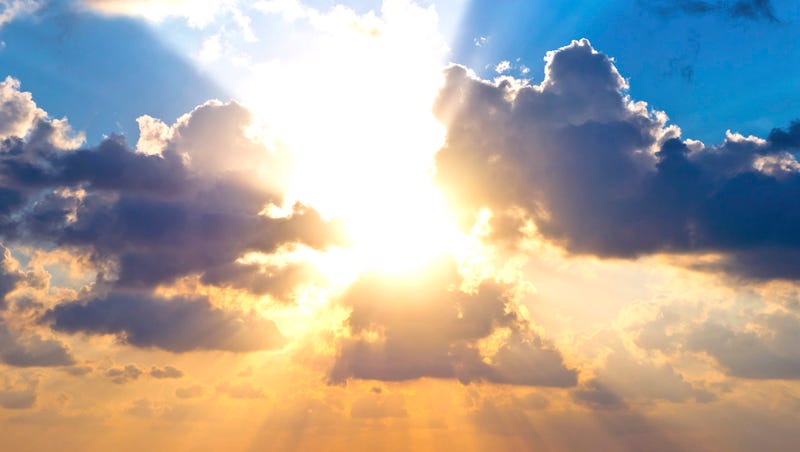 Three Surprises –
In a recent conversation that included a range of topics including heaven, I told a friend what had been said to me many years ago. "There will be three surprises when we get to heaven. People will be surprised who made it. People will be surprised who didn't make it. Lastly, people will be surprised we made it!" It's a humorous yet true statement about the afterlife and Heaven's membership. There will be surprises aplenty so don't be so convinced in your beliefs, ability, and acceptability that you lose the mystery of a God who knows more than you, sees more than you, and is bigger than you can imagine. Heaven mirrors God's nature and love not ours.
Wisdom teaches us that our ways are not God's ways, our thoughts are not God's thoughts. In the Benedictine tradition, we are to keep our; "eyes tilted toward the ground." We are to keep our sin and shortcomings always in front of us. Not as a burden to bear but a constant reminder of God's goodness and a reason to rejoice.
Several years ago I was leading a Bible study and we were talking about God's grace. I made the statement; "Without God, no matter what we said or did, we had no true goodness or love." A man in our group spoke up and asked; "If we don't have anything worth redeeming why does God love us?" "That,' I answered, 'is why they call it grace."
For more posts, reflections, poems, and other writings, please visit:
http://www.thewannabesaint.com
blessings,
@BrianLoging (Twitter)
Four blind men longed to see the wonders of the world. Wanting to help, a local Elephant owner arranged for the men to "see" the magnificent beast. The four blind men approached the elephant, arms extended, to investigate this wonder they had only heard about.
The first blind man touched the elephant's leg and thought it must be like a tree, tall and sturdy. The second blind man touched the elephant's side and surmised it to be as a great wall. The third blind man felt the elephant's ear and noted it was similar to a large rug. The fourth blind man grabbed its tail and thought it as a great rope.
When they were done the owner asked them to describe the elephant. The blind men began to argue. For though each experienced it they could not agree on what it was…
___
___
32 Two others also, who were criminals, were led away to be put to death with him.33 When they came to the place that is called The Skull, they crucified Jesus there with the criminals, one on his right and one on his left. 34 Then Jesus said, "Father, forgive them; for they do not know what they are doing." And they cast lots to divide his clothing. 35 And the people stood by, watching; but the leaders scoffed at him, saying, "He saved others; let him save himself if he is the Messiahof God, his chosen one!" 36 The soldiers also mocked him, coming up and offering him sour wine, 37 and saying, "If you are the King of the Jews, save yourself!" 38 There was also an inscription over him, "This is the King of the Jews."

39 One of the criminals who were hanged there kept deriding him and saying, "Are you not the Messiah? Save yourself and us!" 40 But the other rebuked him, saying, "Do you not fear God, since you are under the same sentence of condemnation? 41 And we indeed have been condemned justly, for we are getting what we deserve for our deeds, but this man has done nothing wrong." 42 Then he said, "Jesus, remember me when you come into your kingdom." 43 He replied, "Truly I tell you, today you will be with me in Paradise."
Today is Christ is king Sunday. Fittingly Jesus is hailed as king in our scripture. 
Here is what is happening in our text. Luke bases his account on Mark 15 and Matthew 27 but Luke also gives the story his own spin. When Jesus is crucified the Gospel of Mark uses the Greek term for a "political criminal" or "insurrectionist." Luke uses a word that means common criminal, thief. This fits with Luke's overall theme. Throughout his gospel Jesus identifies with the common people. Luke is not afraid associating Jesus with the lower class. Luke places Jesus in the company of prostitutes, lepers and tax collectors. Jesus' friends have made him infamous. 
Isaiah 53 says;
10 The Lord says, "It was my will that he should suffer; his death was a sacrifice to bring forgiveness…My devoted servant, with whom I am pleased, will bear the punishment of many and for his sake I will forgive them. 12 And so I will give him a place of honor, a place among the great and powerful. He willingly gave his life and shared the fate of evil men. He took the place of many sinners and prayed that they might be forgiven."
Isaiah describes God's chosen one being numbered among the sinners. Luke shows Jesus' relationship with the lowly ones even in his death.
Luke 23:34Then Jesus said, "Father, forgive them; for they do not know what they are doing." And they cast lots for his clothing.
Jesus clings to his relationship with the Father. He prays the Father will forgive those who "do not know what they are doing." He trusts the Father who has led him to this cross.
Last week we talked about Luke being written near 85AD to the second generation of Christians. Jesus, through Luke's writing, is demonstrating to these who are facing increasing persecution how to be faithful. While suffering, Jesus prays forgiveness for his abusers and trusts God. The followers of Jesus are to do likewise.
The "them" Jesus asks the father to forgive in verse 34 are the Jewish leadership. These would be the same ones who would be persecuting the second generation of Christians.
Along with Mark 15 and Matthew 27 Luke also uses Psalm 22;
My God, my God, why have you forsaken me?
Why are you so far from helping me, from the words of my groaning?
O my God, I cry by day, but you do not answer;
and by night, but find no rest.

But I am a worm, and not human;
scorned by others, and despised by the people.
All who see me mock at me;
they make mouths at me, they shake their heads;
"Commit your cause to the Lord; let him deliver—
let him rescue the one in whom he delights!"

Do not be far from me,
for trouble is near
and there is no one to help.

Many encircle me, surround me;
they open wide their mouths at me,
I am poured out like water,
and all my bones are out of joint;
my heart is like wax;
it is melted within my breast;
my mouth is dried up,
and my tongue sticks to my jaws;
you lay me in the dust of death.

For they are all around me;
a company of evildoers encircles me.
My hands and feet have shriveled;
I can count all my bones.
They stare and gloat over me;
they divide my clothes among themselves,
and for my clothing they cast lots.

But you, O Lord, do not be far away!
O my help, come quickly to my aid!
Deliver my soul from the death,
my life from their wickedness!
Save me!
In Psalm 22 the writer pleads with God to rescue him from his abusers, those who mock him, surround him, cast lots for his clothes, and are killing him.
Casting lots for clothes was the soldiers way of telling a condemned man "Guess you won't be needing these anymore." It was mockery. The Psalmist laments; "I am a worm and not human." Similarly, Jesus is no longer a person in the eyes of the soldiers.
To be bullied, insulted, pushed around, stripped naked, and not be able to escape, is true powerlessness. Even a condemned criminal joins in. How low must Jesus feel for someone in the same position to partake in the taunts?
Unlike Mark, Luke does not have the people, the crowd, mock Jesus. In his gospel, Jesus and the people have an intimate and lasting connection.
The rulers, the religious élite, have no such qualms about insulting and reveling, enjoying, Jesus' suffering. They mock him, jeering for him to save himself the same way he saved others.
The religious aristocracy, the Roman government, a criminal, all tell Jesus to save himself, prove he is the Son of God. From the lowest of society to some of its highest officials, Jesus is roundly condemned.
In Luke, chapter 4;
1 Jesus, full of the Holy Spirit, returned from the Jordan and was led by the Spirit in the wilderness, 2 where for forty days he was tempted by the devil. He ate nothing at all during those days, and when they were over, he was famished. 3 The devil said to him, "If you are the Son of God, command this stone to become a loaf of bread." 4 Jesus answered him, "It is written, 'One does not live by bread alone.'"

5 Then the devil led him up and showed him in an instant all the kingdoms of the world.6 And the devil said to him, "To you I will give their glory and all this authority; for it has been given over to me, and I give it to anyone I please. 7 If you, then, will worship me, it will all be yours." 8 Jesus answered him, "It is written,

'Worship the Lord your God,
and serve only him.'"

9 Then the devil took him to Jerusalem, and placed him on the pinnacle of the temple, saying to him, "If you are the Son of God, throw yourself down from here, 10 for it is written,

'He will command his angels concerning you,
to protect you,'

11 and

'On their hands they will bear you up,
so that you will not dash your foot against a stone.'"

12 Jesus answered him, "It is said, 'Do not put the Lord your God to the test.'" 13 When the devil had finished every test, he departed from him until an opportune time.
At his temptation, Satan says to Jesus, "if you are the Son of God…" directly attacking the words spoken by God the Father who, following Jesus' baptism, in Luke chapter 3, said;
 …and when Jesus also had been baptized and was praying, the heaven was opened, 22 and the Holy Spirit descended upon him in bodily form like a dove. And a voice came from heaven, "You are my Son, the Beloved;with you I am well pleased."
Similarly, four times in Luke from chapter 22 verse 67 to chapter 23 verse 39 the words "if you are the Son of God…" are used by Jesus' accusers and killers.
36 The soldiers also mocked him, coming up and offering him sour wine, 
The Greek words here do not mean sour. More accurately they mean watered down. In other words it is cheap wine, common people's wine, the drink of the lower class. The soldier's mockingly give it to one who is "the King of the Jews."

In the midst of all this suffering, mocking, and impending death a lone voice of sanity speaks. It is the voice of the other criminal. One has mocked Jesus, now the other one has something to say. He tells the other crook to pipe down! Like Pontius Pilate, this crook notices something unique about Jesus in comparison to him and his crooked companion. Jesus is innocent.
Then, this lowly criminal, recognizes who Jesus is…Not the religious élite and their "thou shalt and shalt not" regulations & stipulations regarding who can and cannot be a child of God. Neither was it the Roman government and their desire to rule the world who don't recognize real power when it's staring them in the face. Definitely not the disciples who don't get Jesus, even though they've been around him for three years. Everyone of them are upstaged by a crucified, crook.
A man who sees Jesus as his only hope. Nothing to lose, everything to gain. A guy looking to save his own skin, redemption of a life wasted, in his last moments on Earth, has the audacity, the gall, to want to hang out with Jesus in paradise. Jesus tells this low life thug, "okay." 
Let that sink in.
Isn't that just like Jesus, with his last breaths and his first act as crucified king, to save a lowly, common, no good, person?
Truly something to be thankful for…
­-—
Reflection
Psalm 46: "O God, You are our refuge and strength, a very present help in trouble. Help us not to fear, though everything change. When nations are in an uproar, and Earthly kingdoms totter; You speak and show us Your power. O God, You are with us, You are our refuge. May we see the works of the Lord. You have brought peace to our world through Your Son. Let us, "Be still, and know You are God! And You are with us, You are our refuge. Amen." 
___
"The roar of the flames streaming far and wide mingled with the groans of the falling victims…one would have thought that the whole city was ablaze…With the cries on the hill were blended those of the multitude in the city below, and now many who were emaciated and tongue-tied from starvation, when they beheld the sanctuary on fire, gathered strength once more for lamentations and wailing…Yet more awful than the uproar were the sufferings." Luke, David Tiede.
___
___
5When some were speaking about the temple, how it was adorned with beautiful stones and gifts dedicated to God, he said, 6"As for these things that you see, the days will come when not one stone will be left upon another; all will be thrown down." 7They asked him, "Teacher, when will this be, and what will be the sign that this is about to take place?" 8And he said, "Beware that you are not led astray; for many will come in my name and say, 'I am he!' and, 'The time is near!' Do not go after them. 9"When you hear of wars and insurrections, do not be terrified; for these things must take place first, but the end will not follow immediately." 10Then he said to them, "Nation will rise against nation, and kingdom against kingdom; 11there will be great earthquakes, and in various places famines and plagues; and there will be dreadful portents and great signs from heaven. 12"But before all this occurs, they will arrest you and persecute you; they will hand you over to synagogues and prisons, and you will be brought before kings and governors because of my name. 13This will give you an opportunity to testify. 14So make up your minds not to prepare your defense in advance; 15for I will give you words and a wisdom that none of your opponents will be able to withstand or contradict. 16You will be betrayed even by parents and brothers, by relatives and friends; and they will put some of you to death. 17You will be hated by all because of my name. 18But not a hair of your head will perish. 19By your endurance you will gain your souls.
What's happening in our text
Luke bases this section on the gospel of Mark 13:v1-13 and Jesus' speaking of the destruction of Jerusalem which occurred in 70CE. 
Jesus is on his way to Jerusalem since 9:51, as he goes he is speaking to his disciples and followers specifically, the crowd of rubberneckers in general.
Though Luke bases this teaching of Jesus on the gospel of Mark he also makes some changes
In Mark 11, Jesus rebukes a fig tree as being no good, incapable of bearing fruit. Following this Jesus makes his final trip to the temple and then leaving symbolically rejecting the temple.
Luke on the other hand doesn't have Jesus leaving the temple. Mark has a grim view of the temple and it religiosity. Luke 21 has Jesus teaching in the temple every day during the week leading to his death.
Luke almost has Mark's exact words in regards to the temple being destroyed. Luke's gospel was written some 15 years following the actual destruction of the temple. The Jew's were abused and taken advantage of by the Roman empire. They would revolt, cause trouble and at times engage in open warfare with the Romans. Finally this resulted in the Jewish/Roman war which ended with the Jewish people getting crushed by the Romans. 
"The Roman-Jewish War lasted from AD 66-70.  In the beginning, the rebellion was widespread.  As the Romans brought military pressure to bear in the north, however, the Jews were forced back into "Fortress Jerusalem" in AD 69.

AD 69 was a very strange year.  Within Jerusalem, the Jewish defenders were divided.  In hopes of a ceasefire, some advocated for accommodation with the Romans.  Some of the more fanatical Jewish defenders, on the other hand, took an "apocalyptic" view.  If they could just hold on awhile longer, they thought, God would intervene and smite the offenders.

These more fanatical defenders gained the upper hand in the city.

Jerusalem put up a stout defense, and the Romans had a hard time subjugating the city.  When they did, it wasn't pretty.  They destroyed everything they could destroy.  Blood ran in the streets." Progressive Involvement Lectionary Commentary
The annihilation of Jerusalem, the temple, many of its leaders, the religious and political élite, had a huge impact of the Jewish people. Luke has some of the disciples asking what many readers at the time of Luke's gospel being written would be wondering; "when is this suffering going to be over? How long will it last?" Jesus answers both the disciples and the readers of his gospel, this suffering; "will last until the proper time, until all has been fulfilled."
Jesus says in Luke 21;
20 "But when you see Jerusalem surrounded by armies, then know that its desolation has come near. 21 Then let those who are in Judea flee to the mountains, and let those who are inside the city depart, and let not those who are out in the country enter it; 22 for these are days of vengeance, to fulfill all that is written. 23 Alas for those who are with child and for those who give suck in those days! For great distress shall be upon the earth and wrath upon this people; 24 they will fall by the edge of the sword, and be led captive among all nations; and Jerusalem will be trodden down by the Gentiles, until the times of the Gentiles are fulfilled.
In verse 7 of Luke 21 the disciples asking Jesus; "when will this be?" inquiring about the destruction of the temple. However, a reader of Luke's gospel wouldn't be concerned with something which happened 15 years ago but would be concerned with how long the Jewish people would be under persecution and how long until God intervened on behalf of his people.
Jesus tells them in Luke 21v8-9 …But they asked him, saying, "Teacher, when therefore will these things be?  And what (will be) the sign when these things shall come to be?"  And he said, "See that you might not be deceived, for many will come upon my name, saying, 'I am' and 'the time has come near.'  Do not go after them.
During the Jewish/Roman war some thought God would come down and rescue his people, defeating the Roman empire. Even 15 years later there were still those who wanted to engage in another "Holy War" against the dreaded Gentiles. Luke has Jesus speaking to the disciples and to the readers of his day saying "Do not go after them!"
Jesus continues, Luke 21v9, "When you hear of wars and rebellions, don't be alarmed. These things must happen first, but the end won't happen immediately."
Notice Luke edits Mark's version with the word, "immediately." It has been 15 years since the destruction of the temple. This was not the end, but the beginning. Luke is telling the readers to be patient, there is more to come.
Jesus then says, Luke 21v10, "Nations and kingdoms will fight against each other. 11 There will be great earthquakes and wide-scale food shortages and epidemics. There will also be terrifying sights and great signs in the sky.
In other words there's going to be an increasing build up of problems, difficulties and hardships.
Added to this will be the suffering of Jesus' followers
Luke 21v12-15 "But before any of this happens, they'll arrest you, hunt you down, and drag you to court and jail. It will go from bad to worse, dog-eat-dog, everyone at your throat because you carry my name. You'll end up on the witness stand, called to testify. Make up your mind right now not to worry about it. I'll give you the words and wisdom that will reduce all your accusers to stammers and stutters. 16-19 "You'll even be turned in by parents, brothers, relatives, and friends. Some of you will be killed. There's no telling who will hate you because of me."
Just as Jesus was abused so will his followers suffer at the hands of those in power.
The Greek literally says; "They (those in power) will lay epiballō (throw) their hands on (seize) you and persecute you."
When Luke is writing his gospel the Jews and Christian relations had turned sour. There were those who blamed the Christians for the Jewish/Roman war being lost.
Up until this time the Jews and the Christians coexisted but following the destruction of the temple there were some who thought the Christians were idolaters because they worshiped Jesus as God and as a result God was punishing the Jewish people for blasphemy.
Mark's gospel has Jesus predicting they will be taken to the "synagogues" but Luke adds the word "prisons" showing an increase in tension and penalties for the followers of Jesus.
Luke 21v12 "(you, the disciples, will be) "delivering up to synagogues and prisons, being brought before kings and governors for my name's sake;"
When, not if, this happens Jesus tells them;
Luke 21v13-15 "You'll end up on the witness stand, called to testify. Make up your mind right now not to worry about it. I'll give you the words and wisdom that will reduce all your accusers to stammers and stutters."

Luke 21v13 "…and it shall become to you for a testimony. 14 `Settle, then, to your hearts, not to meditate beforehand to reply, 15 for I will give to you a mouth and wisdom that all your opposers shall not be able to refute or resist."
Mark's gospel has the Holy Spirit giving the persecuted words to speak but Luke has Jesus. Luke is writing to a new generation of Christians and he wants them to make sure they know Jesus is personally is with them. They are being persecuted, as Jesus himself was, and like him they will be able to stand strong, be a faithful witness.
Jesus comforts them;
Luke 21v17-19 "Even so, every detail of your body and soul—even the hairs of your head!—is in my care; nothing of you will be lost. Staying with it—that's what is required. Stay with it to the end. You won't be sorry; you'll be saved."

Luke 21v17-19 The Greek reads; "You will be hated by all because of my name. Yet not a hair of your head will perish. By your endurance you will gain your lives."
Remember what Jesus said to his followers in Luke 12;
4 Then Jesus said to the people, "I tell you, my friends, don't be afraid of people. They can kill the body, but after that they can do nothing more to hurt you. 5 I will show you the one to fear. You should fear God, who has the power to kill you and also to throw you into hell. Yes, he is the one you should fear. 6 "When birds are sold, five small birds cost only two pennies. But God does not forget any of them. 7 Yes, God even knows how many hairs you have on your head. Don't be afraid. You are worth much more than many birds. Don't Be Ashamed of Your Faith 8 "I tell you, if you stand before others and are willing to say you believe in me, then I[a] will say that you belong to me. I will say this in the presence of God's angels.
Notice Jesus doesn't answer their question. He didn't give them specifics of the end times, what to look for, a code, a certain way or inside knowledge of deciphering when everything will come to an end. Jesus spoke to them about his faithfulness and their need to remain faithful, to endure. Remember Luke was written to a group of people who were being persecuted, blamed and increasingly shoved out of their community and nation.
As hard and difficult as this was Luke assures them the same Jesus was with them to turn their suffering into times of witnessing and no matter what they endured they were secure in the faith the same God who raised Jesus from the dead was the God who would be with them.
In other words, don't be focused on what might happen tomorrow be focused on being a faithful witness today.
­—
Reflection
As I pause offer your prayers to God…
Psalm 118: "We give thanks to you Lord, for you are good. Your steadfast love endures forever! Out of our distress and hardships today we call on the Lord; and He answers us. He sets us in a stable place. With the Lord on our side we do not fear. What can this world do to us? The Lord is on our side. He helps us. It is better to take refuge in the Lord than to put confidence in the things of this world. It is better to take refuge in the Lord than to put confidence in ourselves. Amen." 
___