Blog Archives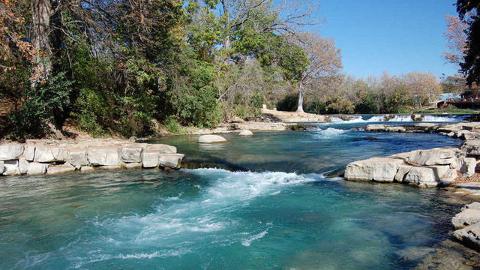 The River –
"Imagine yourself sitting on the bank of a river. The river is your stream of consciousness. Observe each of your thoughts coming along as if they're saying, "Think me, think me." Watch your feelings come by saying, "Feel me, feel me." Acknowledge that you're having the feeling or thought. Don't hate it, judge it, critique it, or move against it. Simply name it: "resentment toward so and so," "a thought about such and such." Then place it on a boat and let it go down the river. When another thought arises—as no doubt it will—welcome it and let it go, returning to your inner watch place on the bank of the river."
#ThomasKeating, "Open Mind, Open Heart: The Contemplative Dimension of the Gospel"
One of the greatest and most difficult realizations is the truth that we are not our thoughts. We are not our actions. We are not our egos. True, each of these can reveal things about us and to the world but we are not these things.
The problem is we've been taught the opposite most of our lives. The famous quote; "Reap a thought, a word, an action, then a destiny," seems right but our thoughts do not have to lead us to who we ultimately become. We can choose to go deeper, change paths, refuse to be captive to our thoughts by breaking free of them.
blessings,
@BrianLoging (Twitter)
thewannabesaint.com
Caged –
He paced back and forth like a caged tiger. I watched him as he went side to side, back to front. At first, he was on a phone call and then afterwards he continued his anxious pacing. I was sitting, waiting, in a room at our county jail which was mostly glass facing the pacing man. I knew what he was feeling because I was struggling with the same anxiety. My classroom wasn't ready and I was asked to stay in one room until the other one was available. Inside I felt emotionally restless, ready to go, get the class underway.
However, unlike the man pacing back and forth, I noticed what I was doing and took a breath. I folded my hands together placed them on my knees, inhaled and exhaled again. When I was allowed into the classroom I was no longer anxious but settled. I organized the chairs, wrote my notes on the dry-erase board as the men began to come in and find their seats. A worker from the jail checked in to see if everything was okay and I assured her it was. She apologized for the wait. "That's okay,' I replied, 'sometimes having nothing to do, being forced to wait is exactly what we need."
blessings,
@BrianLoging (Twitter)
thewannabesaint.com
Stuck –
This morning my wife had to be at work early. She's not a morning person so when this happens I try to stay out of the way! After she left I was about to make some coffee when the phone rang. It was Beth frantically telling me that a couple of miles down the road a horse had fallen into a mostly frozen pond and would I do something? "Uh, sure?" I answered. I hopped in the truck, which was very cold inside and out, and drove down the road until I spotted it. Sure enough, there was the poor animal front half end above the ice and it's back completely submerged. The question quickly became; "What do I do?" The field with the pond and the horse has no house near it. There are a row of houses on the other side but no way to tell which one, if any, owned the horses and/or the field. There were vehicles behind me so I pulled off the road. Feeling helpless and unsure I dialed 911 hoping they would be able to do something or point me in the right direction. A man answered the phone and I told him the story. I gave him the address of the house immediately across the road from the stuck horse and he said help would be on the way. I couldn't stay where I was parked and the field had no gates to drive through so I trusted the man on the phone and went home.
Sitting here this evening I don't know what happened to the horse. It wasn't moving when I called the emergency number and I don't have any idea how long it was stuck in the ice and freezing water. I hope it will be okay. I hope the help got there in time. I hope someone who could do something got it unstuck and it, along with the other horses, will stay away from the pond until it warms up.
blessings,
@BrianLoging (Twitter)
thewannabesaint.com