Blog Archives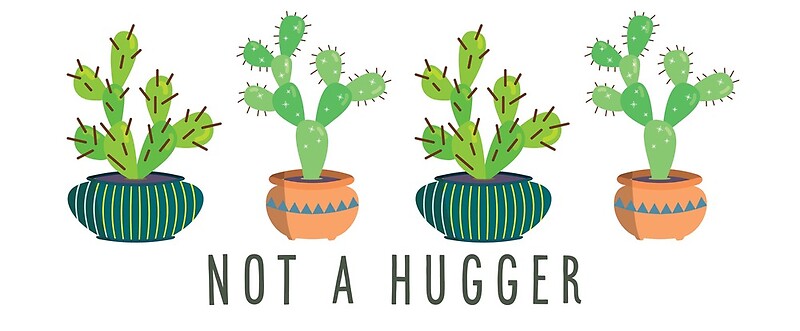 Seriously –
I saw her when we came into the church this morning. She was standing far enough away from us that I found my seat before she zeroed in. This woman, this hugger, does not take "No thanks!" for an answer. A couple of weeks ago she was standing at the front door of the church greeting folks as they came in. She hugged my wife, who is a great hugger! and then extended her arms to me. I tried to fend off her advances by grabbing a hand and shaking it but she was too quick. I even told her; "I'm not a hugger." Didn't matter. She replied as she thwarted my defenses; "Well I am and you're a man and can handle it." I didn't have time to answer and had no desire to debate so once she was finished I found my seat but never the rhythm of the service. I was thankful this morning she was far enough from me I could slip in under her radar.
"You're a man and can handle it." Actually, no, I can't. I have a well established large personal space. It comes from being introverted, claustrophobic and someone who deals with social anxiety. When someone insists on hugging me it's not about me it's about them. She would respond; "I'm friendly." Imagine me saying that to a woman who didn't want a hug and then forcing one upon her. I don't think "friendly" is what she'd feel about me.
It's a reminder that we are all wired differently. Some people are talkers, others observers. One person may love being a social butterfly while another can think of nothing more joyful than a night at home. Extroverts, introverts, center of attention and wallflower. Knowing people, respecting them and helping them feel comfortable and at ease requires a relationship. When someone tells you, asks you to do or not to do something don't dismiss it. Listen to it, take it seriously, and proceed with kindness and caution.
blessings,
@BrianLoging (Twitter)
thewannabesaint.com
Silence –
Today has been unusually quiet compared to the last several days since my father has passed. My wife and my mother spent some time together today which left me in her house alone. I reflected a bit on the week that has been but mostly I have slept. I am an introvert with diagnosed social anxiety so it takes little imagination to understand the state of mind I am in because deaths and memorial services, errands and condolence phone calls, emails and texts are anything but quiet and stress reducing.
My wife and my mom knew sleep and silence are what I needed today and am thankful they gave me some space. I am running on empty and my body, emotions, mind, and soul craves the quietude of muted phones, ignored texts, emails that can wait, errands which didn't happen and the downtime which occurs the days and weeks after a loved one leaves this world.
They say the hardest part of a dear one passing isn't the days immediately following. Days which are filled with planning, non-stop moving, endless words and memories are hard but can sweep you away in a flood of activity. It's the days after which grow long. They are filled with loneliness, and questions, confusion, anger, and doubt. The flood of phone calls slow to a trickle, the flowers stop coming, the cards aren't in the mail, and life goes on. The silence following the cacophony can be deafening.
So, what is a balm for me will become hurt, especially for my mother. It is in these times I must trust the memories will comfort, family and friends will step in for support and we will learn to live with the blessing of silence.
blessings,
@BrianLoging (Twitter)
thewannabesaint.com
Posted in Mindfulness
Tags: #activity, #after, #alone, #anger, #away, #balm, #become, #blessing, #body, #cacophony, #cards, #comfort, #compared, #condolence, #confusion, #craves, #days, #deafening, #dearone, #deaths, #diagnosed, #doubt, #downtime, #emotions, #empty, #endless, #errands, #especially, #filled, #flood, #flowers, #following, #friends, #hard, #hardest, #hurt, #I, #imagination, #immediately, #introvert, #learning, #leaves, #lifegoeson, #live, #long, #lovedone, #memorialservices, #memories, #mother, #moving, #muted, #needed, #non-stop, #part, #passed, #passing, #planning, #questions, #quiet, #quietude, #reducing, #reflected, #running, #several, #sleep, #slept, #slow, #socialanxiety, #space, #stateofmind, #stepin, #stopcoming, #stress, #support, #sweep, #thankful, #today, #trickle, #trust, #understand, #unusually, #wife, #words,  Family, father, loneliness, Mind, Silence, Soul, World