Blog Archives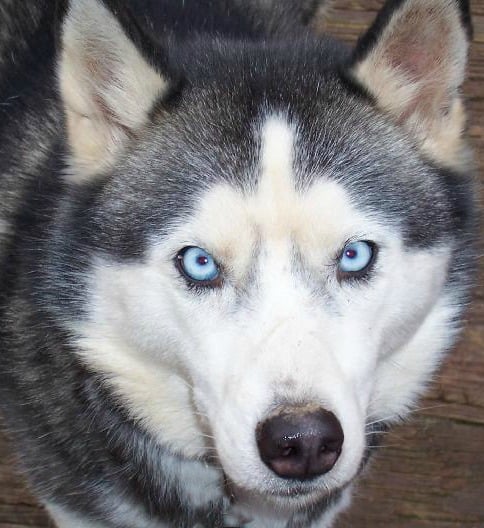 Are You There?
A couple of hours ago a storm blew into our area with winds and thunder but no rain, at least for us. I was on the couch with my earbuds in. This is why I didn't hear the storm or our Siberian Husky, Trooper, come into the living room and sit down right next to me and stare. Suddenly I had a feeling of being watched and I looked in his direction to find his face a few inches from mine. It startled me! "What are you doing?" When I heard the thunder I realized he was looking for comfort. I patted him on the head, scratched ears and told him it was; "okay." I guess he heard and understood because he went back to his favorite spot on the foyer floor and laid down. He's still asleep now.
In times of uncertainty, calamity, unsettledness, and fear, what we want, need to know if someone is there for us. As adult humans, we understand that a person's presence might not fix or solve the problem but it does remind us we are not abandoned. It is one of the deepest longings at the heart of existence; the assurance that on this journey call life, we don't walk alone.
blessings,
@BrianLoging (Twitter)
thewannabesaint.com
Be Still and Wait –
This morning our Siberian Husky Trooper was ready to go outside. Getting to the door to open it he was dancing in circles! I opened the door to the house and the screened in porch and he darted out. Almost immediately I noticed a big rabbit in the field adjacent to our home. My eyes grew big wondering if Trooper was going to see it. The rabbit was still. I thought to myself; "Can you stay that still with danger lurking that close to you?" I watched intently as Trooper began sniffing the area and the bunny watched and didn't move. After what seemed like a lifetime for me and the rabbit Trooper lumbered back to the porch and the rabbit was safe.
Many times in life we face trials and temptations, difficulties and decisions, choices and complications. Our instinct might be to take immediate action, react in the ways which seem best, hurry up and solve the problem. However, wisdom teaches us that when the way is clouded and we can't see or crowded with chaos and hard to move the best we can do mentally, emotionally and spiritually is to be still and wait. To breathe, close our eyes and find our center. With a hectic mindset, we can focus on the immediate and "fix it" at the expense of the future. We can also become reckless running around trying everything at once and creating more hardships for ourselves and those we love.
A great master was asked one time by his student to help him solve a problem for which he could not find the solution. "I've gone over it a million times, looked at every angle, and can't seem to see the way. The master told him; "When you step into a stream your feet muddy the waters. Only when you are still will the waters clear."
Stillness, the quietude of the mind, is underrated. Pause, rest, be still, and the way will reveal itself.
blessings,
@BrianLoging (Twitter)
thewannabesaint.com
Openness –
On Wednesday night of this week, I was speaking with someone about being truthful and honest to the people in our lives. He stated that being too open can lead to betrayal and pain and therefore he doesn't share his story for fear of being taken advantage of. It was a fair argument but I told him maybe his issue wasn't being fearful of openness but being open to the wrong people. People we can trust, who won't use our words and experiences against us, who will listen to understand and be a shoulder to lean on are invaluable.
Earlier in the week, I shared a fatherhood presentation to a group of fathers who have young kids in school. There were dads who were going in to work late and some who had worked all night diligently sitting there to learn more about how they could be involved in their children's lives, especially when it comes to education. After the presentation while saying; "goodbye" to the fathers one of the attendees came up and began speaking with me. She had some questions about getting a father involved and shared her story. What she told me was hard to hear with many issues and other challenges she's had to overcome. I couldn't believe how open she was being when we had just met a few moments earlier. She believes I am someone she can trust with her family.
Openness, transparency, is something most say they desire in themselves and others. However, these can bring feelings of uncomfortableness, questions that aren't easily answered, and an unsettling fear of not being skilled enough to meet the need. When these thoughts are rushing through our minds the need to breathe and be still must be remembered. Most people don't want you to fix them they simply need someone to listen without judging. If there are problems to solve and mysteries to unravel we can do them together as we travel this path called life.
blessings,
@BrianLoging (Twitter)
thewannabesaint.com