Blog Archives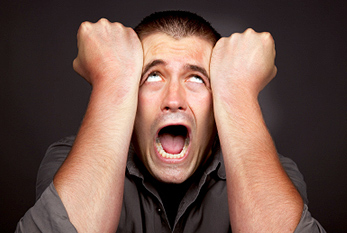 Frustration –
This morning I had an early appointment in Nashville to being a training. I put the address in my GPS app on my phone and off I went. It took me to the exact spot I'd entered into the phone but there was one problem, it was the wrong address. It took me a moment to realize my mistake until I literally got to the end of a dead-end road. Argh! I felt my frustration starting to grow. Instead of being 30 minutes early I was going to be late. I checked the address again, realized where I made my mistake, and set off in the right direction. Trying not to let my anxiety rise to a harmful level I turned on a three-lane road and stopped at a traffic light. I was in the far right lane, an SUV in the center lane, and a sports car in the left lane. I heard yelling and realized it was the SUV driver and the sports car driver having a road rage episode. I couldn't make out much of what they were saying and the words I could understand I don't dare repeat.
I sat there listening and watching the living embodiment of frustration out of control; testosterone, anger, and vitriol spewing out of both of them. It made me take stock of my mood and I realized it wasn't worth getting upset over my mistake and to let it go. I did, arrived at the training on time and am thankful for the lesson two men out of control could teach me.
blessings,
@BrianLoging (Twitter)
thewannabesaint.com
Starting Point
Much of the work I do with men is helping them see their life; "as it is" not how they think it is, where they are,  not where they think they're located. Many times we think that to improve our lives we just leave the past behind, imagine what we want and go in the direction of our dreams. However, until we know who we are, what we are, we cannot change our life's trajectory.
Imagine having a map of New York and wanting to visit the Statue of Liberty. You find the world-famous landmark and begin to plan how long it will take and what resources you'll need to complete your journey. However, if you don't know where you are you have no starting point, no place of reference. You can't take the first step towards the future until you discover where you're standing presently. There are two different type of planning are required if you're already in New York or if you're coming from Chicago.
Self-awareness and intense discernment are required for us to forge a new path for our lives. Who, what and where we've been determines the genesis point, the starting place that will take us where we need to go.
blessings,
@BrianLoging
thewannabesaint.com