Blog Archives
Sounds Like –
Twenty years ago this week an F3 tornado tore through downtown Nashville, Tennessee (http://www.wkrn.com/news/f-3-tornado-hit-nashville-20-years-ago_20180416214213/1126239206) We weren't living in Tennessee at that time but we happened to be in Nashville chaperoning hundreds of teenagers at an annual talent and skills competition on the campus of Trevecca Nazarene University. When the announcement came down that all were supposed to seek shelter several of us ran to the different ball fields, tennis courts and other places where events were being held. Making sure to get everyone we saw to safety without a lot of chit-chat was important, however, one young teenage girl stopped and with fear in her eyes and voice asked me if we were in the path of the tornado? Guiding her inside as I answered; "I don't know." "How will we know?" she inquired. Not being a meteorologist I repeated what I once had been told; "A tornado sounds like a train!" Unbeknownst to my inquisitor, there was a set of railroad tracks behind the campus of Trevecca. At the exact time, I told her a tornado sounded like a train a train going past the school sounded its horn. "I hear the tornado! I hear the tornado!" I peered into her fear brimmed eyes, smiled and said; "Sweetie, tornadoes may sound like trains but they don't come equipped with horns." I got her with the rest of the students in a basement, shut the door and stood outside watching, listening for the tornado and laughing, thankful that even in this storm of chaos a light of joy can shine through.
blessings,
@BrianLoging (Twitter)
thewannabesaint.com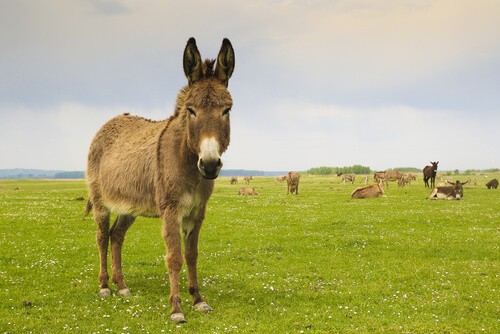 Stubbornness or Stillness?
This morning I had a meeting in Fayetteville, Tennessee. On my way, driving on country back roads I passed a Burro, standing by a fence. The other cows and critters in the pasture were nowhere near it but there it stood facing the morning sun. A few hours later I was returning home and passed the same Burro in almost the same spot as it was in earlier. It paid no attention to the automobiles coming and going or the other animals in the field.
As I watched the Burro I thought about its unwanted and unwarranted reputation of being resistant, refusing to obey, obstinately going its own way and doing its own thing. However, I did wonder; "Is he being stubborn or still?" I finally decided he was simply being still. He was facing the sun, he was on level ground, he wasn't distracted.
I reflected on my day and my mental state and thought; "I long to be like the Burro; enlightened, sure-footed and mindful."
blessings,
@BrianLoging (Twitter)
thewannabesaint.com