Blog Archives
Elephant in the Room –
I was talking with someone earlier this week about a situation he is experiencing. He is forced to make a choice between one thing and another. It's not a choice he doesn't want to make. As he belabored the unjustness of the decision, listing the pros and cons, complaining about the consequences of each side of the coin, I asked him a simple question. "What's the elephant in the room?" He paused and reflected. "What do you mean?" he inquired. "Dig deeper, past the choice and the consequences, what's the reason you're having to make this decision?" He was quiet, then took a deep breath and answered.  He had clarity. Like a man in a cloudy stream, only when his mind was still, did the water clear.
I once had a co-worker whose personality and mine didn't click. It wasn't anyone's fault. It's the way it is sometimes. He was in charge of employee evaluations. When we met in his office he read over my "grades" and was surprised they were all high. "I didn't expect this!" he exclaimed. I sat there thinking; "You didn't expect this because I've never had issues with anyone or any part of this job. The problem is you don't like me and this colors everything." We chatted and then I left thankful for my scores but still burdened by the negative relationship.
Wisdom teaches us to make sure we deal with the thing that matters not everything else.
blessings,
@BrianLoging (Twitter)
thewannabesaint.com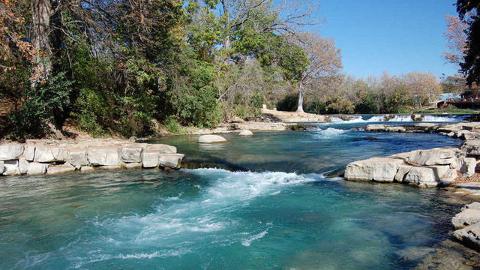 The River –
"Imagine yourself sitting on the bank of a river. The river is your stream of consciousness. Observe each of your thoughts coming along as if they're saying, "Think me, think me." Watch your feelings come by saying, "Feel me, feel me." Acknowledge that you're having the feeling or thought. Don't hate it, judge it, critique it, or move against it. Simply name it: "resentment toward so and so," "a thought about such and such." Then place it on a boat and let it go down the river. When another thought arises—as no doubt it will—welcome it and let it go, returning to your inner watch place on the bank of the river."
#ThomasKeating, "Open Mind, Open Heart: The Contemplative Dimension of the Gospel"
One of the greatest and most difficult realizations is the truth that we are not our thoughts. We are not our actions. We are not our egos. True, each of these can reveal things about us and to the world but we are not these things.
The problem is we've been taught the opposite most of our lives. The famous quote; "Reap a thought, a word, an action, then a destiny," seems right but our thoughts do not have to lead us to who we ultimately become. We can choose to go deeper, change paths, refuse to be captive to our thoughts by breaking free of them.
blessings,
@BrianLoging (Twitter)
thewannabesaint.com