Blog Archives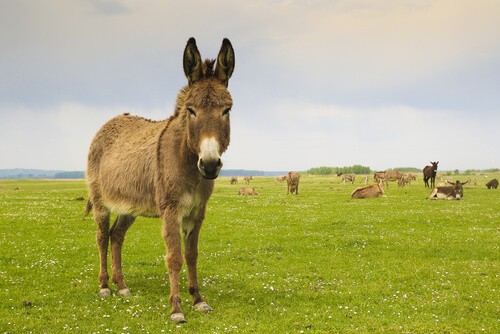 Stubbornness or Stillness?
This morning I had a meeting in Fayetteville, Tennessee. On my way, driving on country back roads I passed a Burro, standing by a fence. The other cows and critters in the pasture were nowhere near it but there it stood facing the morning sun. A few hours later I was returning home and passed the same Burro in almost the same spot as it was in earlier. It paid no attention to the automobiles coming and going or the other animals in the field.
As I watched the Burro I thought about its unwanted and unwarranted reputation of being resistant, refusing to obey, obstinately going its own way and doing its own thing. However, I did wonder; "Is he being stubborn or still?" I finally decided he was simply being still. He was facing the sun, he was on level ground, he wasn't distracted.
I reflected on my day and my mental state and thought; "I long to be like the Burro; enlightened, sure-footed and mindful."
blessings,
@BrianLoging (Twitter)
thewannabesaint.com
Transition –
Earlier this week I watched a powerful documentary on people being released from prison. It was a story of two men who were sentenced under California's outdated and recently reformed Three Strikes Law. Simply stated the law demanded that any criminal who was arrested and found guilty three times received a harsh prison sentence often 25 years to life. After almost 20 years of being in place, the penal system and the citizens of California realized it wasn't effective, led to overpopulation in the jails, severely impacted people of color, and left a trail of broken families in its wake.
The documentary follows two of the thousands of men who have been released for petty, non-violent crimes, after serving decades in jail. The transition for both of them was difficult, however, one was able to get back on his feet stay clean and sober, get married and be promoted in his job. The other man, who had a strong family and church structure, struggled mightily. Old demons such as drugs and mental health issues kept him unbalanced and unable to find his groove the way the first man did. At the end of the documentary both men were still out and making their way the best they could.
As I watched the film I couldn't help but feel for both of these men. I work with men who are incarcerated and addicted. Addiction is a powerful force for evil and destruction. Incarceration can also be a doorway to a life of crime and recidivism but I've also seen men who learn how to make different choices so as not to end up in the same predicament.
Men who do three things greatly reduce their chance of going back to jail or getting back into their addiction. The first is having a positive home environment that might not necessarily be with their biological family. The second is a full-time job, a chance to do something and receive. The third might be most important and that is living a life around positive people, folks who will pull you up not drag you down. These three things, which most of us take for granted, will help men stay balanced, sure-footed, and on the path to a new life.
Psalm 121
1 I lift up my eyes to the mountains where does my help come from?
2 My help comes from the Lord, the Maker of heaven and earth.
3 He will not let your foot slip he who watches over you will not slumber;
4 indeed, he who watches over you will neither slumber nor sleep.
5 The Lord watches over you the Lord is your shade at your right hand;
6 the sun will not harm you by day, nor the moon by night.
7 The Lord will keep you from all harm, he will watch over your life;
8 the Lord will watch over your coming and going both now and forevermore.
blessings,
@BrianLoging (Twitter)
thewannabesaint.com