Blog Archives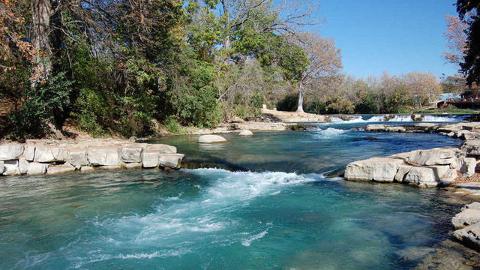 The River –
"Imagine yourself sitting on the bank of a river. The river is your stream of consciousness. Observe each of your thoughts coming along as if they're saying, "Think me, think me." Watch your feelings come by saying, "Feel me, feel me." Acknowledge that you're having the feeling or thought. Don't hate it, judge it, critique it, or move against it. Simply name it: "resentment toward so and so," "a thought about such and such." Then place it on a boat and let it go down the river. When another thought arises—as no doubt it will—welcome it and let it go, returning to your inner watch place on the bank of the river."
#ThomasKeating, "Open Mind, Open Heart: The Contemplative Dimension of the Gospel"
One of the greatest and most difficult realizations is the truth that we are not our thoughts. We are not our actions. We are not our egos. True, each of these can reveal things about us and to the world but we are not these things.
The problem is we've been taught the opposite most of our lives. The famous quote; "Reap a thought, a word, an action, then a destiny," seems right but our thoughts do not have to lead us to who we ultimately become. We can choose to go deeper, change paths, refuse to be captive to our thoughts by breaking free of them.
blessings,
@BrianLoging (Twitter)
thewannabesaint.com
Purpose –
Today, I had a meeting at a discreet location in a women's shelter. There was no sign and the house was off the road down a long driveway. Blink and you would miss the driveway and the house couldn't be seen from the road. The meeting was one of our county's Community Action Board which is made up of several organizations who partner together to reach as many families in need and/or in crisis as possible.
The leader of the house was a nice woman who talked softly but her love for the women in the house was obvious. The women who are enrolled there are from all backgrounds, religions, and nationalities. Some have experienced abuse at the hands of others and some abused themselves. Under the roof of this home, however, all were welcomed, loved and given the skills to start life anew with a sense of belonging and purpose.
Written on a huge dry erase board were the rules of the house, encouragement and motivational sayings, practical applications of the lessons being taught to those who stayed in the home. On one board, almost in the middle was the name of the leader and one of the tenants wrote; "She rocks!" I thought this was awesome. Here is a woman who has given her life to helping those in need. It did not go unappreciated.
I hope each of us can find a place where we can offer love, kindness, time, patience and give worth to those whom life has overlooked or discarded.
blessings,
@BrianLoging (Twitter)
thewannabesaint.com